THE SCOTTISH FIRE SERVICES COLLEGE
previously known as
THE SCOTTISH FIRE SERVICE TRAINING SCHOOL
Schools
1940s to 1953 SFSTS, Moredun, PAISLEY. and also SFSTS, Whitburn, WEST LOTHIAN.
1953 to 2002 SFSTS, Main Street, Gullane, EAST LOTHIAN. EH31 2HG
2002 to 2015 SFSC, Main Street, Gullane, EAST LOTHIAN. EH31 2HG (Name change only)
The Paisley school was at Moredun but they used the training ground at Sandyford (Western Area Fire Brigade school and fire station for Renfrew).
The third course at Whitburn started on the 17th June, 1946 and the third course at Moredun started on 1st July 1946. So the two Training Schools probably started in 1946 or possibly 1945.
Commandants
Moredun
1949 to 1953 Commandant David Palmer
Whitburn
1947 Commandant J D McNicol (NFS Scottish Recruits Training School)
Gullane
| | |
| --- | --- |
| 1953 to ? | Commandant David Palmer (was there 1966) |
| ? to ? | ? |
| 1968? to 1977 | Commandant Joseph Hartil QFSM |
| 1977 to 1981 | Commandant Harold Carr MBE, AMUFireE |
| 1981 to ? | Commandant Alfred Jones OBE, QFSM, FIFireE, MBIM (Firemaster Tayside FB) |
| 5/1/1988 to 22/7/1994 | Commandant C McManus MBE, QFSM, BA, MIFireE |
| 22/7/1994 to 9/1/1995 | Temporary Commandant G Robertson (was Deputy Commandant) |
| 9/1/1995 to 2001 | Commandant Donald (Donnie) Grant OBE, QFSM, GIFireE |
| 2001 to December 2001 | Temporary Commandant Colin McGarva (D&G FB) |
| | Head of Programme Delivery and Development |
| December 2001 to ? | SDO Jim Robertson |
| ? to ? (there March 2012) | Area Commander Jes Eckford (BSc(Hons) PG Cert TertED MIIRSM) |
Director of Fire Service Training
? to 9/3/2012 Bob Virtue (there 2011)
Courses
Appliances
June 1957 RSC306 Bedford S/HCB Angus WrT
1992

WrL

J272TSG

Volvo Fl6-14/Emergency One

WrL

G637DSC

Renault G13C/Mountain Range

WrL

F240SSX

Renault G13C/Fulton and Wylie

WrL

E656NSC

Renault G13C/Fulton and Wylie

WrL

E657NSC

Renault G13C/Fulton and Wylie

WrL

W867W

Bedford TK/Carmichael

FoST

YWS482K

Ford Transit/SFSTS

GPL

198ELM

Bedford RL 4x4/AFS

L4P

SXF84

Landrover 88/AFS

ET

KES313F

Commer VA/HCB Angus
1998

WrL/ET

P876NFS

Volvo FL6-14/Excalibur

L4V

N568TSC

Landrover Defender 110 (Front Winch)

ET

L691JSX

Volvo FL6-14/Emergency One

WrL

K571CSG

Volvo FL6-14/Emergency One

WrL

J272TSG

Volvo FL6-14/Emergency One

WrL

G637DSC

Renault G13C/Mountain Range

WrL

F240SSX

Renault G13C/Fulton and Wylie

WrL

E656NSC

Renault G13C/Fulton and Wylie

WrL

E657NSC

Renault G13C/Fulton and Wylie
| | | | |
| --- | --- | --- | --- |
| 2012 | | | |
| WrL | H288SSA | Scania | Ex |
| WrL | J272TSG | Volvo | Ex |
| Wrl | K281FSO | Scania | Ex |
| WrL | K571CSG | Volvo FL6- | Ex |
| WrL | L691JSX | Volvo | Ex |
| WrL | P876NFS | Volvo | Ex |
| WrL | Y847BSC | Scania 94D-220/Excalibur | Ex |
| WrL | SN04FGD | Scania | New |
Notes
The SFSTS at Moredun was open by 1951 possibly opened in 1951. (GFS Annual Report 1951)
The Scottish Fire Service Training School is administered by the Scottish Home and Health Department. It started at Moredun, Paisley, in 1948 and moved to Gullane in 1953 into the former Marine Hotel. The school is responsible for the training of all recruits for the eight Scottish Fire Brigades and also carries out training on specialized subjects for firemen and junior officers as well as certain industrial courses. The present capacity of the school is 100 students. It is planned to increase this to 150 under a programme of extension and modernisation which started in 1976.
(FIRE magazine, May 1977. Page 602.)
The Scottish Fire Service Training School opened on the 1st of April 1954 replacing the facility in Paisley.
December 2001 A new Senior Management Team was put in place, with a Senior Divisional Officer becoming the new Head of School replacing the role of Commandant, and a Divisional Officer becoming the new Chief Instructor which replaced the role of Deputy Commandant.
The SFSC is administered and financed by the Scottish Government.
In March 2011 the capacity of the College is 122 student bedrooms and 20 instructor bedrooms.
Scottish Fire Services College
Golden Jubilee
1954 - 2004
The Scottish Fire Services College
at the centre of excellence
Welcome to the Scottish Fire Services College in this our Jubilee Year, 1954 – 2004. During this 50 year period the College has provided comprehensive centralised residential development for Fire Service Personnel.
The College's core business is the provision of development for trainee firefighters for the eight Scottish Fire and Rescue Services (Central Scotland, Dumfries & Galloway, Fife, Grampian, Highland & Islands, Lothian & Borders, Strathclyde and Tayside). This provision of basic skills, knowledge and understanding is augmented by further development in the areas of Road Traffic Accident Extrication Techniques and Instructor Development, Breathing Apparatus Instructor Development and more recently Urban Search & Rescue Tools Skills and Mass Decontamination Instructor Development.
Since 2002 the United Kingdom Fire Service has introduced the Integrated Personal Development System (IPDS). This aims to ensure a competent work force within the UK Fire and Rescue Services. The Scottish IPDS Team is located at the Scottish Fire Services College and was established under the auspices of the Scottish Executive to assist in the implementation of the IPDS throughout the Scottish Fire and Rescue Services. The future development of supervisory managers within the Scottish Fire and Rescue Services will involve a collaborative approach between the Scottish IPDS Team, Scottish Fire Services College and Scottish Further Education establishments. The future will bring a higher profile for the Scottish Fire Services College in the field of management development for the Scottish Fire and Rescue Services.
This event is a celebration of the link between the village of Gullane and what was the Scottish Fire Service Training School over the past 50 years. I take this opportunity to express my gratitude to the people of Gullane who have supported us throughout this period and especially our immediate neighbours who have demonstrated so much patience and understanding during the many times that we have 'disturbed the peace and tranquillity' whilst conducting the exercises that are essential to the outcomes of our development programmes.
Jim Robson GICG, MInstLM, MIFireE
Principal
Scottish Fire Services College
College Facilities
A number of facilities have been added to the College in the last 50 years. Many of these additional facilities reflect the changes in the role of the Fire & Rescue Service as well as advancements in fire research and rescue techniques.
During the 1950s & 1960s two drill towers were erected to meet the growing demands of training firefighting crews. The towers are used to instruct and train firefighters in the correct procedure and operation of ladders. To the west of the drill yard we can find the 'old tower', which was constructed shortly after the College opened. Over the last 50 years many serving and retired firefighters in Scotland and the North East of England have used this structure.
The new Breathing Apparatus Tactical Building was erected along side the east tower. This building is used for training firefighters in the use of Breathing Apparatus. This facility uses a fire simulator which assists in the development of firefighting crew's skills in search and rescue. To the rear of the Breathing Apparatus Tactical Building a Confined Space unit and Silo have also been installed.
The College always strives to deliver first class training. Developments in training highlighted the need for more up to date equipment. There are currently seven fire appliances and two emergency rescue tenders at the College. A large appliance bay and maintenance building was built in the late 1970s to facilitate this.
To meet the physical demands of the job, firefighters have to be fit. A large sports hall and gymnasium was built in the mid 1990s. The gymnasium itself has the most up to date equipment.
Since the College opened there has been much advancement in fire research. To make firefighting crews aware of these advancements, a Real Fire training unit was built and opened in 1999. This unit enables firefighters to develop their techniques in Breathing Apparatus search procedures and firefighting techniques. Inside this building gas fire simulating units are fitted, which can simulate fires in areas of a domestic house fire. This enables the staff of the College to develop the firefighter's knowledge and understanding in procedures, but at the same time, ensure the safety of all personnel through the operation of a control room.
The dual carriageway on the east of the site enables crews to develop their skills in road traffic incidents.
Close to this area, crews are now meeting the demands of a modern day Fire and Rescue Service by training and developing skills in Urban Search and Rescue.
Students attending courses no longer reside in Henderson House which was the original Marine Hotel. They are located in Braidwood House, named after Sir James Braidwood who formed the world's first municipal fire brigade in Edinburgh before taking up a similar position with the London Fire Service where he lost his life attending a fire at Tooley St in 1861. Braidwood House has accommodation for 120 students.
The College facilities have been developed over the last 50 years to meet the demands of the modern day service. Further changes are planned to ensure that firefighters leaving this establishment are able to deal with any potential incidents safely and efficiently.
The Work of the College
The Scottish Fire Services College is the national establishment for Scotland and provides comprehensive, centralised residential development for Scottish Fire & Rescue services personnel.
The trainee firefighter course runs for 12 weeks and is the first phase of a programme which leads to obtaining an SVQ in Operations in the Community. Weeks 1-6 centre on the basic core skills in firefighting using pumps and ladders. This is followed by a 3 weeks Breathing Apparatus Operators course and a further 3 weeks involving First Aid at Work, Road Traffic Accident Procedures and Community Safety. A graduation ceremony on the final Friday concludes the course.
In addition to providing a basic 12 week course for trainee firefighters, other specialised development is given which provides for instruction in:
Community Safety
The Use of Breathing Apparatus
Fire Legislation
Road Traffic Accident Management
Other Fire-Related Courses
In recent years, the excellent facilities at the College have been used for conferences, meetings and seminars, principally by public sector organisations.
<PHOTO> Trainees carrying out a Ladder Drill
Specialist and Development Courses
<PHOTO> Dealing with a tanker incident
The following are brief outlines of the various specialist development courses currently being delivered at the College.
Breathing Apparatus Instructor Courses (BAI)
The above course has been designed to enable students to devise and deliver training, on the technical and operational aspects in the use of Breathing Apparatus procedures.
On completion of the 3 week course the student will be able to:-
Understand the breathing apparatus procedures and techniques as specified by the Home Office
Plan, prepare, conduct, supervise, debrief and analyse practical and resource management exercise.
Recognise the safety requirements of realistic breathing apparatus training exercises and implement accordingly.
Road Traffic Accident Instructor Course (RTAI)
The RTAI course allows students to enhance their existing knowledge in all areas of road traffic accident work. They will be required to use technical knowledge, practical skills and communication techniques to devise and deliver training.
The 3 week course is split, the first week is Trauma & Medical Care which makes the student proficient in basic, immediate care on first attendance at an incident.
Weeks 2 and 3 allow students to extend their technical and practical knowledge. During this time they will experience the role of instructor by producing presentations, preparing and delivering practical exercises. The main focus will be on the student using effective communication skills to brief, co-ordinate and debrief exercises keeping safety paramount at all times.
Road Traffic Accident Operators Course (RTAO)
This one week course provides consolidation training for both wholetime and part time, operational firefighters in current road traffic accident procedures, in order to maintain standards combined with providing continuation training in new developments and techniques.
Urban Search and Rescue Course (USAR)
This course has been developed to ensure that all personnel who will be required to use the rescue equipment on the New Dimension appliances have an awareness of basic tool operation and safety.
The course lasts 1 week and gives students the opportunity to practice basic techniques when using technical search equipment, shoring, and concrete breaking and breaching equipment. The course culminates in a final exercise where students are able to display the new techniques acquired during the course.
Crew and Watch Management Courses
By the end of this year the college will start to deliver elements of the Crew and Watch management courses currently being delivered at the Fire Service College in Moreton in Marsh, England. These courses are designed to develop personnel in supervisory management and will be delivered in conjunction with further education colleges throughout Scotland.
<PHOTOS> Firefighting techniques on a Breathing Apparatus course. A typical road traffic accident.
Urban Search & Rescue at The Scottish Fire Services College
<PHOTO> An aerial photograph of Grove Park Street.
The events which befell the United States of America on 11th September 2001 were felt throughout the world. What unfolded in New York was unprecedented both in the magnitude of the disaster and in the involvement of the New York City Fire Department. On that day 2,749 died and thousands more were injured. Of that amount 343 firefighters lost their lives. The resulting rescue was akin to a military operation and required considerable planning with regard to logistics, rescue teams and the coordination of the various agencies involved.
It was quickly realised that measures would have to be put in place to deal with an incident of this nature in the event that it should ever happen again. In the UK various pieces of legislation were introduced and the Fire & Rescue Services response was the 'New Dimensions' programme. This programme coordinated Fire & Rescue Services throughout the country so that they may have an effective response should an event of a catastrophic nature ever occur. To put together such a plan was an enormous task and required the involvement of every branch of the service. Equipment had to be evaluated and purchased, vehicles designed and built and the firefighters who crewed these vehicles had to be trained to a high standard. In Scotland the training needs of the eight Scottish Fire & Rescue Services are met by the Scottish Fire Services College here in Gullane (SFSC).
The equipment that was being used at these incidents and the skills required to operate the equipment was all new to the Scottish Fire & Rescue Service. This presented a unique challenge to the SFSC. Although we have the facilities to train firefighters, training instructors in these skills was something completely new. There was nowhere within the UK that had the expertise to train instructors to the high standards required. The place that provided the best training in this field was in the USA in Texas and it was there that instructors from the college were sent. The instructors were trained in various skills including finding people trapped within a collapsed building using sophisticated listening devices and special cameras that look into confined spaces, working with search and rescue dogs, as well as shoring up an unstable building and breaking through a 2 foot thick concrete floor. All these skills are vital for rescuing people trapped inside or under a collapsed building. These things and many more are what a firefighter has to learn so that they may be effective in the vital task of saving lives at a collapsed structure incident.
In October 2003 the SFSC ran the first of many Urban Search & Rescue Skills courses. The course was designed by Kevin Smyth and Edward Gallagher who were seconded to the College. The course itself provided Scottish Firefighters with an introduction to collapsed structure rescue and the students attending were enthusiastic and eager to learn the new skills. It was another way in which they could extend their role as a firefighter.
Unfortunately the skills honed on the course would too soon be put to use.
At around lunchtime on 11th May 2004 a powerful explosion shook the Stockline Plastics Factory in Grovepark Street, Maryhill Glasgow resulting in the partial collapse of the 4 storey building. Dozens of people lay trapped and injured and sadly nine people died. A major rescue effort swung into action and involved fire & rescue services from across the UK. This was the first deployment of the Urban Search and Rescue Teams in the UK post September 11th. Personnel trained at the Scottish Fire Services College played a vital role in the rescue operations. Two instructors from the college Instructors Smyth & Gallagher were mobilised to the incident and over four days they were involved in a number of rescues including a rescue that lasted 10 hours to free a trapped women who had been working on the 3rd floor of the building and ended up buried in the rubble 12ft below ground level. This particular rescue was extremely hazardous as the casualty was located in a very unstable part of an already unsteady structure. The injured lady was successfully removed. The skills learned by the firefighters who trained at Gullane were invaluable on that day and the ongoing training in Urban Search & Rescue at The SFSC at Gullane will continue to provide the Fire & Rescue Services of Scotland with the high standard of rescuer that the Scottish public not only expect, but deserve.
The Future
At this moment in time the Fire Service is undergoing radical changes, practices and methodologies which have been in place virtually unchanged for almost 50 years have been closely scrutinised and either revamped or replaced to suit the needs of the community.
The Fire and Rescue Service needs an effective tool to ensure that it's people, and the people it serves are as safe as possible. The best way to do this is to make sure that everybody in the Fire and Rescue Service is competent in their role. If every member of the Fire and Rescue Service is able to demonstrate competence they are much more likely to be safe in any working environment they may encounter.
The Integrated Personal Development System (IPDS) aims to give people a wide range of transferable skills to meet the needs of their role. Not only does it focus on the task requirements of the role, but gives an opportunity to develop other recognisable skills that are just as important.
It's not about the rank that personnel reach, but rather the roles they have. The IPDS is especially developed to complement the required operational and technical expertise associated with task, task management, contingency management and environmental skills. This enables individuals to develop a range of skills and knowledge that can be applied in a variety of contexts and different environments.
The IPDS embraces the full range of fire & rescue service activity and is intended to enable fire & rescue service staff to attain and subsequently maintain the level of competence required to meet the demands of their role. The key elements of IPDS are:
• National objectives for development and training.
• A structure which is related to role rather than rank.
• A national standard process for recruitment and selection based on role related competencies.
• A national strategy for training at local, regional and central level that supports staff in achieving and maintaining competence in the roles and activities they perform.
• National Occupational Standards (NOS) for each of the main areas of activity.
• Scottish Vocational Qualifications (SVQs) based on the NOS.
• Targeted personal development.
• A Personal Development Record for all fire & rescue service staff.
Within Scotland a team has been established to assist the Scottish Fire & Rescue services with the implementation of IPDS. Based at the Scottish Fire Services College, they offer support and guidance on IPDS issues as well as providing the administrative centre for Scottish Vocational Qualifications (SVQs). Although the team is based at the Scottish Fire Services College, they maintain their independence and have now become embedded within the various groups that have been formed to progress the IPDS.
So with a collaborative approach, including close links with the IPDS hub through a memorandum of understanding, the IPDS is progressing well in Scotland. However, much more needs to be done and we are confident that the partnership will deliver on all components of the IPDS and the system will gradually become embedded within Scotland.
In April 2004 the IPDS team launched a web site www.IPDS.org.uk this site has proved very successful with over 100,000 hits to date. There is a vast amount of information ranging from a Document Library, with contact numbers for members of the IPDS team, and links to Scottish Fire Services College. The site also has an e-learning module on IPDS that is a very worthwhile tool, allowing you to gain and enhance your IPDS knowledge.
Gullane & "The Fire School"
How can anyone fail to be impressed by this building? Imagine the excitement in the village in 1899, when the Hopes of Luffness announced they were to build a hotel in Gullane — right next to the railway terminus, then only a year old. The railway was to bring visitors in their thousands — 20,900 were counted through in 1900 - as well as a measure of prosperity to the village. As the work proceeded, imagine the gossip amongst the 500 or so inhabitants — the exclamations at the beautiful woodwork, the lofty rooms, the sweep of the magnificent staircase, the "tower" with its prospect for miles around.
Move on through two world wars, when the army requisitioned it, to peace in 1945 and the hope that once again, the Marine Hotel, Gullane, would bring employment and status to the village. For a few years, it did so. Molly Alderson, who was to work at the Fire School in later years, but had come through from Dumfries after the war to work for the Honourable Company of Edinburgh Golfers at Muirfield, remembers the dances she was invited to at the Marine by the golfers who stayed there. But it was not to be sustained and with its closure in 1951, the prospect was of a crumbling white elephant, a depressing ruin on the approach from the east.
To the rescue came the Trustees of the "Fire Service Research and Training Trust", a U.K body. They were persuaded by the Scottish Home and Health Department of the Scottish Office to provide £13,500 in 1953 to acquire the former hotel, as well as 3 acres of adjoining land "for recreational purposes" at £306 7s. 2d (to include legal fees). This would enable the Scottish Fire Service Training School to move from unsuitable premises at Moredun, Paisley, to pastures new in Gullane — and signalled the beginning of a relationship with the village that was to be to the benefit of both parties.
An Instructor's Life
James Bowman was seconded as a junior instructor from Angus Area Fire Brigade in 1959 for the usual two-year engagement. He would travel from his home in Dundee each Sunday and return on Friday. Inspite of his absence from home, his wife, Cath, who at that time had three young children to bring up, found the pattern of life much preferable to that of a station fireman. Jim died in 1998, but Cath remembers, "It was a 96 hour week — always on call - fortnight on and fortnight off. They were always busy with everybody having coal fires, and there were the chip pan fires and the jute mills. Every so often while he was in Gullane, Jim had to stay over at a weekend because some recruits lived too far away to go home, but then we all went across and stayed the weekend at the Fire School. Miss Grant was the cook then - she had bought a flat in Hopetoun Terrace - and she managed things really well, making the money stretch and doing good home cooking. She was meticulous — she'd been in the army during the war and she did a tour of duty at Chequers, the country home of Prime Ministers, and she looked after Mr Churchill twice with Attlee in between. The children and I would come down to one of the small dining rooms for our meals — we had to pay so much for our food."
By 1966, Jim was Station Officer in Dundee when he applied for and was appointed as Senior Instructor. "This meant that we had to come through to Gullane to live, although our eldest was at university in Dundee and stayed there. I was a "townie" and didn't know how I was going to manage! At first, we had a cottage at West Fenton while Garleton Court was being built — there were to be two houses there for Senior Instructors. Ian was at North Berwick High School and Jeanette soon went off to teacher training college but they both joined Mrs Hislop's drama group — they put on plays and shows in the Village Hall. Jim joined the Bowling Club.
"He was good at lecturing and the School sent him down to London to the B.B.C. on short courses to improve even more. He specialised in Breathing Apparatus training and he was good with the manuals. Often he would come in for his meal just after 5 o'clock and then say that there were one or two struggling with their study and would go back to coach them. Being a navy man originally, he enjoyed teaching the knots. In Dundee, he had helped boys with the Duke of Edinburgh's Award and when the Duke of Edinburgh visited the scheme, Jim was asked to demonstrate how he taught knots to the boys. He came home and told me the Duke had said, "That one would be very handy for tying up the wife!"
"Jack Mclnnes, the other Senior Instructor, was a great one for the entertainment side of things. He would find out which recruits could play an instrument or sing and get up a concert party to go round the old people's homes — Waverley House in Gullane, Tenterfield in Haddington and through to North Berwick. The lads had to practise too after they'd finished their studying. They got a really good reputation and were much appreciated.
"The thing the village didn't like about the Fire School was Thursday nights when the boys had a late pass. With a hundred of them coming out of Bissett's and the Golf, there was a lot of misbehaving. The recruits were given their pay on a Thursday, ready for going home the next day. Jim suggested the answer was to keep the pay back until noon on Friday and that sorted it out!"
In 1987, James Bowman himself wrote of some of his memories of the Scottish Fire Service Training School for a Gullane History Society publication. "I travelled to the School on Sunday 12th April 1959 in the afternoon as I had been invited by the Commandant, Mr D.A. Palmer, to meet the rest of the staff at supper that evening. The journey by train and bus from Dundee brought me to Gullane in ideal time for the supper gathering. I soon settled into my new job and became interested in the building, particularly regarding the Latin motto on the keystone above the front door, which showed the crest of the Hope family who had built the Marine Hotel in 1899. I was very surprised to find that no one at the School could give the meaning of the Latin inscription AT SPES NON FRACTA. However, my cousin's husband was a teacher at Knox Academy, Haddington, and he supplied the literal translation which is LET HOPE NOT BE BROKEN. The keystone also has a representation of a globe under an arc and the date the building was constructed, 1899.
"I returned to SFSTS in 1966 as a Senior Instructor on a permanent basis and soon settled down once again into the district. Either that year or in 1967, two young members of the Hope family, the original owners of the premises, came from America to visit the district and see for themselves the land of their forebears. On visiting SFSTS, they were intrigued and fascinated by the family crest on the keystone and intimated a desire to have the stone removed so that they could take it back to America with them.
"They applied to the Scottish Home and Health Department for permission to do this and, much to everyone's surprise, permission was granted, provided a similar stone was put in position to replace the keystone. Unfortunately for them, investigation of the problem by a building engineer showed that the removal of the keystone was going to be too complex and costly and the proposal was therefore abandoned. The Hopes returned to America very disappointed at having failed." In fact, the meaning of their own family crest had held good — "Let Hope not be broken"!
A Recruit's Story
All the staffing, all the domestic arrangements, all the budgeting — all was for one purpose — to train Fire Service personnel. How did it feel to be subjected to this minutely planned organisation? Ian Bowman had joined the service in October 1973 and just missed the start of a course and so had to wait until January 1974 for the beginning of the next, meanwhile serving as untrained fireman at Crewe Toll Fire Station in Edinburgh. "I was allowed on the van — allowed to go to fires - and do everything really, except go up on roofs.
"There was a big recruiting drive on and our course had 120 or so recruits. It was one of the biggest courses they'd ever had. An awful lot of people had joined after the war and that was their 25 or 30 years gone so they needed to replace them. Amazingly, there were more from the Lothian and Borders Fire Brigade than from any other. At 24, I was one of the older ones. Everyone made their own way there — bicycles, bus, a few cars, taking in recruits from the whole of Scotland. At that time there were eleven Fire Brigades — now there are only eight. There was great rivalry between them — it was like open warfare between them. Each one knew better than the others. The Glasgow brigade had their own training school that their recruits went to first, but the minute they arrived at Gullane Fire School they were told, "Whatever you've learned in Glasgow, forget it! The training starts now!" I slept in the annexe — the annexe connected to the main building on the west side — looking out to the Garleton Hills, where there were six rooms, most of them with two beds but one had four. In one room there was an escape ladder with wooden rungs that could be rolled down out of the window and rolled back up again — very useful, because to get out of the building, you didn't need to use the front door! You could hear this ladder going up and down. We had passes out until 11 o'clock normally, but on Thursdays, it was 1 a.m. The instructors used to come round at 11 p.m. to check we were in bed but they would just look round the door and count heads. It's marvellous how you can shape a pillow or two to look like a man asleep! To the east of the main building there was still the old hotel tennis court and beyond that, a row of old garages where fire engines were kept, with workshops for their maintenance.
"It was very cold that January. The training was strenuous. You were pushed to the limit at times. From the very first week the instructors pushed the recruits as far as possible almost to breaking point. I've seen guys throw up on the drill ground from the physical work. You had people coming from desk jobs - not used to manual work at all. You would be running with 45 foot ladders, four of you — one at each corner, over walls and obstacles — very, very strenuous. I don't think the ladders were designed to be used in the places we were asked to take them. Then there was hose drill, rolling out 100 foot hoses, always wearing full uniform, helmet, boots, jacket, the lot. Later, learning how to rescue and carry a victim was another very strenuous task. We worked in pairs, wearing harnesses in case of mishaps, and took it in turns to carry each other down from the tall tower windows. And always running. You weren't allowed to walk on the drill ground — anyone caught walking was severely reprimanded. If you were asked to get a piece of equipment, you ran. And you called the instructors, "Sir".
"There were three Senior Instructors, Jack McInnes, John Murray and my dad, James Bowman. The recruits were divided into three — I was in John Murray's lot. I asked to speak to him at the beginning because we were expecting our first baby and there was a slight chance that it might come during the three months I was on the course. But there was no doubt — he said I was to have time off if that happened. That apart, he made it quite clear that there were to be no favours just because my dad was on the staff.
"So in the morning it was the drill ground. In the afternoon it was lectures and at night you had to write up your lecture notes with diagrams. Everything was hand written — there were no handouts. Your note book would be taken in every two weeks and marked. You had exams — probably about one a month — on pumps, ladder work, knots and lines, and on First Aid. Our lecturer on that was Dr. Blackett, the village G.P. I always remember — there were 90 of us packed in, the windows closed, and recruits would be flaking out with the heat and the subject matter! During the course, some guys decided it wasn't for them. Some were sent home, at least back to their own brigade with a report, if the instructors didn't think they were up to it, but it was up to their brigade chief to decide. Sometimes the recruit came back — his brigade had invested too much money in him for it to be wasted.
"Thursday afternoon was set aside for sport, mostly football on the football pitch which was where the gymnasium is now. Teams would be made up, others would watch. I did play, but I wasn't good at it — football wasn't my game. But quite frankly, you didn't mind not playing — to be quite honest, you were glad of the rest!
"Some recruits stayed at the Fire School at the weekend, because it was too expensive to get home but every fourth weekend, they were paid to go home. We were very tired and very hungry at night. I was lucky because we were living just down the road at West Fenton at that time and after tea, I could get home. One of my mates was John Reid from Dumfries, a very tall, thin bloke — and my, could he eat! Sometimes, I would collect my meal and sit in the dining room and after he'd eaten his, he'd have mine and I would go home for my tea. Sometimes he would come home with me for more! I had to study but I did go home most nights. My wife was on her own and she was pregnant. She was an avid reader and after tea, she would read and I would study — then back to the Fire School for 11 o'clock. And I'd probably meet John Reid coming back from Aberlady with a fish supper!
"When it came to the end of March and the Passing Out Parade there weren't the crowds that you get now. About 95 of us got through the course. They indicated that if you wanted any family there, they could be invited, but there was no official lunch or anything. They'd maybe get a cup of tea and a sandwich. But we put on quite a show. We had these dams that were filled with coloured water and some of the firefighters dressed up in women's clothes and went up the tower as maidens in distress. When the whistle went, the coloured water — red, blue, yellow — was sprayed about, the maiden rescued and the fire put out — all mock, but very effective. For the formal part, there'd be some visiting Firemasters and local dignitaries standing by the flags and you'd have to march past, eyes right and salute. We'd have been practising marching for twelve weeks! Some of them had no idea, and it had to be perfect.
"By the time you'd done your twelve weeks there, you were fit — really, really fit. I'd never been so fit before — or since! — running hoses, and up and down ladders apart from carrying them. But when I look back I've got fond memories. I wouldn't say I loved every minute of it but I've never regretted joining the Fire Service."
Acknowledgments
The College would like to extend their appreciation to the following people and organisations for their contributons to this publication;
Scotsman Publications for providing archive footage of the College's opening day 1954
Reuters Publications for the pictures of Stockline Plastics Grove Park St 11th May 2004
Beryl Robinson of the Gullane and Dirleton Historical Society who researched and wrote
Gullane and the Fire School, An Instructors Life and A Recruit's Story
<PHOTO> 1st passing out parade from 1954.
Scottish Fire Services College, Main Street, Gullane EH31 2HG. Tel: 01620 842236 Fax: 01620 843045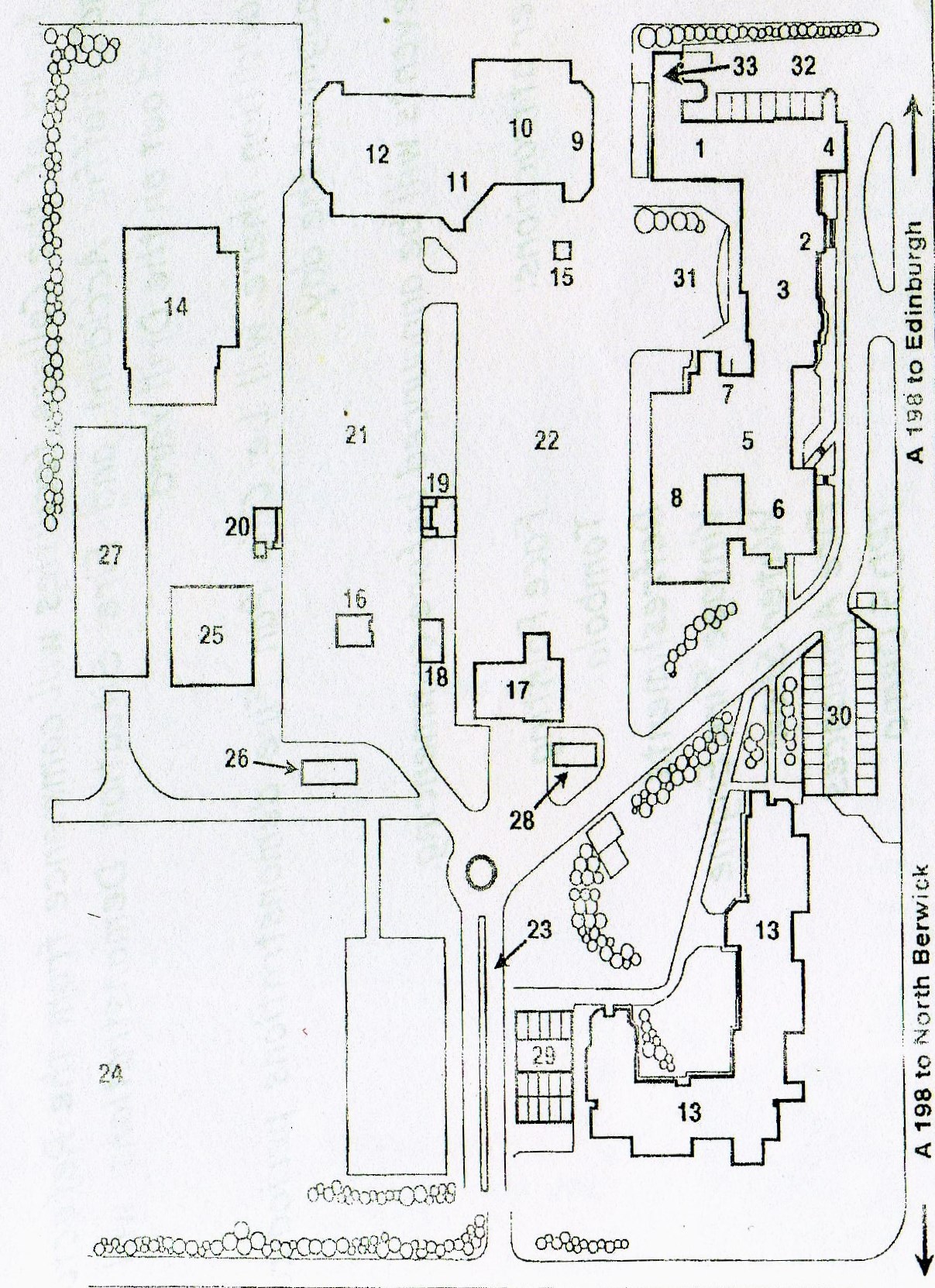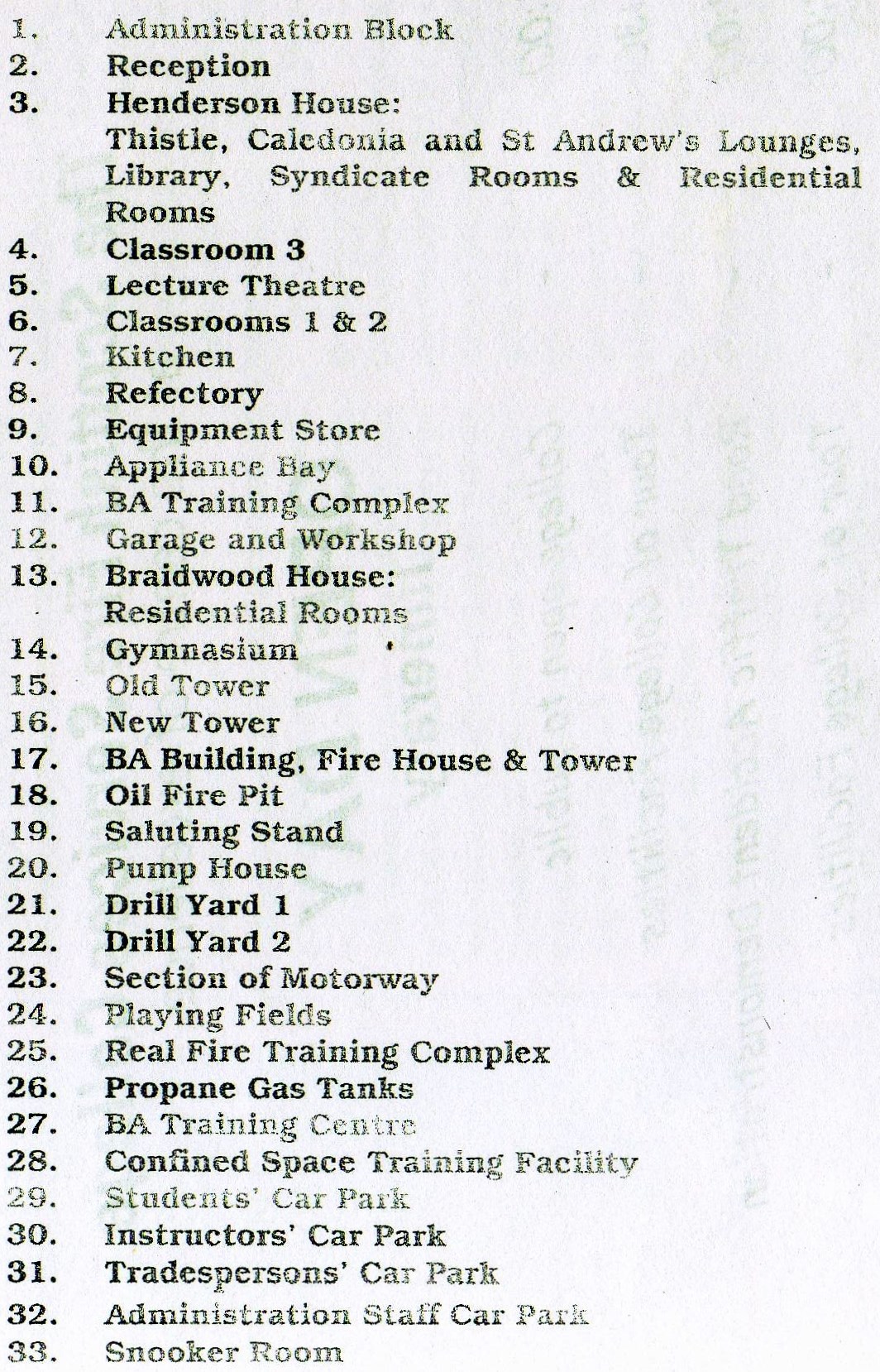 If you know of any mistakes in this or have any additional information please let me know.