HIGH VOLUME PUMPING UNIT
Strathclyde has received one of the four High Volume Pumping Units (HVPU) allocated to Scotland and supplied by the Scottish Executive under the New Dimension programme.
Each HVPU consists of a Prime Mover (PM) and two pods which were supplied by Kuiken Hytrans b.v. and mounted on a MAN TG-A 26-363 FDLRC 6x4 chassis. The system for loading and unloading the pods is the Partec Multilift LHS 260-51 hook which has a lift capability of 20 tons. The crew cab has a rear window so the driver can see the hook during loading and unloading operations One pod contains a hose retrieval unit and a pump unit and a hose box. The other pod contains a hose retrieval unit and two hose boxes. The pump unit is a HydroSub 150 which contains a diesel hydraulic power pack with 60 metres of hydraulic hoses on reels. These two hoses connect to a submersible pump allowing the unit to be situated remotely from the pump horizontally or vertically and means you are not restricted to a 32' lift with the appliance at the water's edge. The pump is portable with two wheels and weighs 115 Kgs. It can pump 3,500 litres/minute at 10 bars or 2,500 litres/minute at 13 bars. The minimum depth of water needed is 0.3 metres. The New Dimension units are provided with an optional Hi-flow kit that allows them to pump 8,000 litres/minute at 2.5 bar. The power pack can also be used as a pump in a water relay by removing the strainer from the pump inlet and attaching the incoming hose in its place. Each hose box contains 1Km of 152mm (6") hose giving a total of 3Km per HVPU. The hose retrieval unit is contained in the top rear compartment of the double cabinet at the front end of the pod and can retrieve hose at the rate of 1Km in 30 minutes as the vehicle is slowly driven alongside the hose from either side of the vehicle. Water is drained from the hose as it is picked up and two firefighters flake the flat hose in the hose box. The lower compartments have access doors on each side and are used to carry other pieces of equipment for supplying water. These include
2 off 6" inlets to 5 2 1/4" Instantaneous outlets
3 off 6" Gate Valves
6 off 6" Dividing Breechings
2 off 6" Double Female Adaptors
5 off Double Male 2 1/4" Instantaneous Adapters
2 off Ground Monitors (Twin 2 1/4" Instantaneous inlets)
1 off Hose Ramp which can take up to 3 hoses.
On arrival at a job, PM unloads the pod and moves to the rear of the pod and picks up the HVPU and transports it's operating position where the submersible pump is connected up and deployed into the water source to be moved, as it weighs 3050 Kg it has to be positioned on hard standing, the PM then returns and picks up the pod again where it can run out the 1Km of hose at a rate of ??:?: If more hose is required the PM can return to it's base for the other pod containing two hose boxes. At Major incidents requiring more than 1 HVPU their deployment is controlled by the Fire and Rescue Service National Co-ordination Centre.
In the cab there is an on board data system, multi band radio giving communications with every brigade in the country ( this will be replaced by an "Airwave" radio), mobile phone, satellite navigation and a vehicle tracking system.
When the new station at Clydesmill went operational on 29/3/2011 the High Volume Pump and Hose module was moved there and is transported on a new Scania P360 with Logan Ingles lifting mechanism and bodywork by Emergency One, registration number is SF10EEN.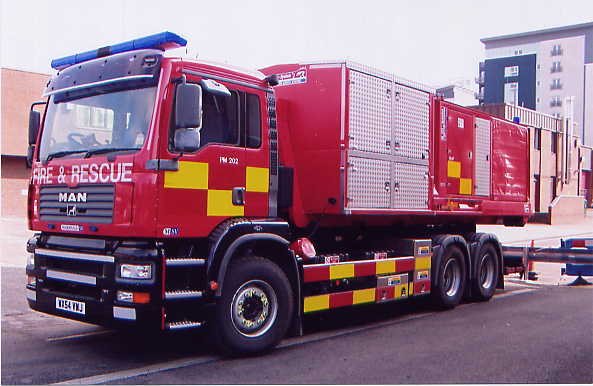 WX54VWJ Strathclyde's PM202 in Cowcaddens yard showing HVPU pod. 100_8628 15/4/2007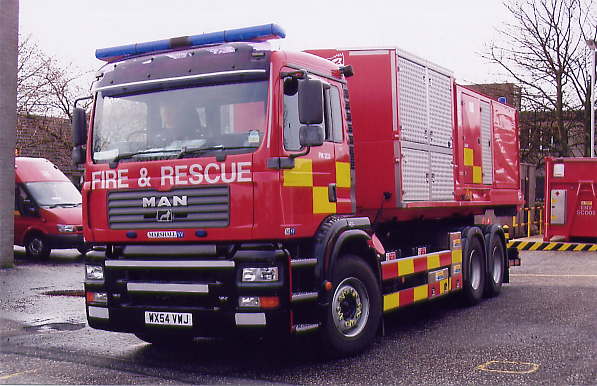 WX54VWJ at Renfrew's yard with HVPU pod. 100_8998 12/4/2008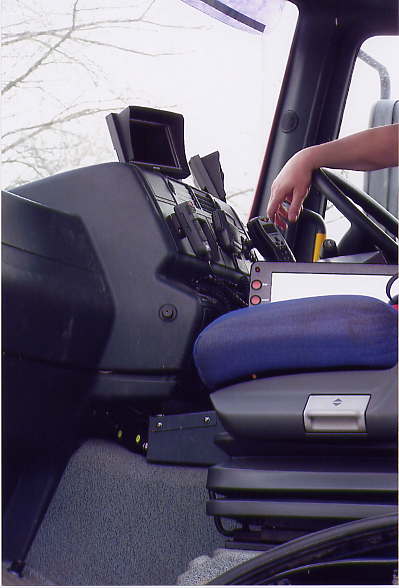 Cab of WX54VWJ 100_9027 12/4/2008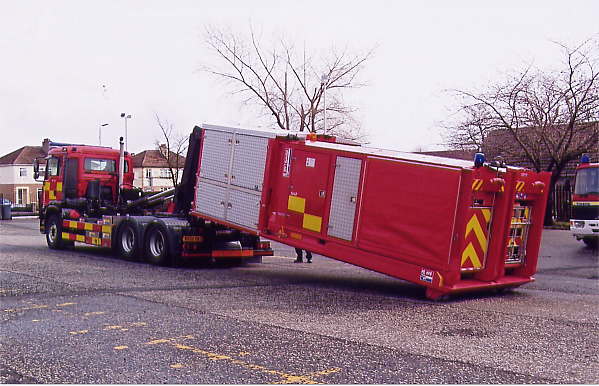 WX54VWJ unloading pod. 100_9016 12/4/2008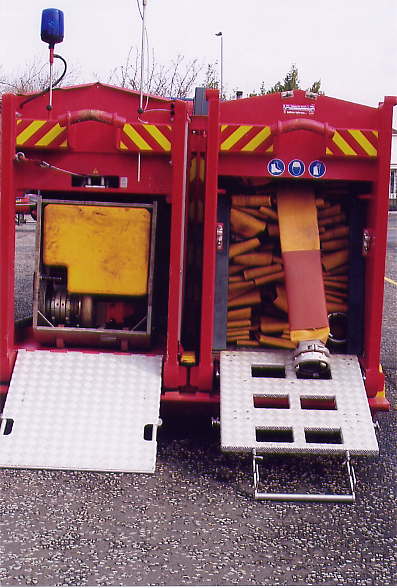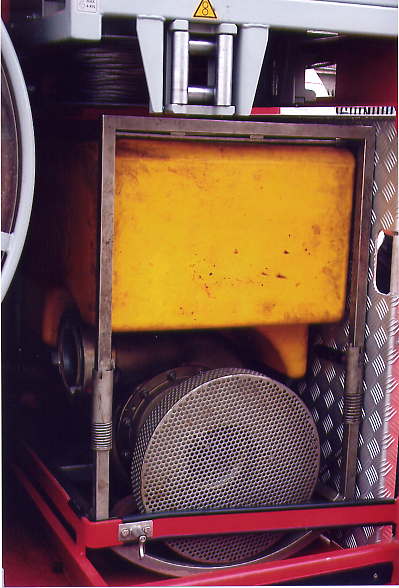 HVPU pod and Hose pod 100_9022 12/4/2008 The submersible pump. 100_9023 12/4/2008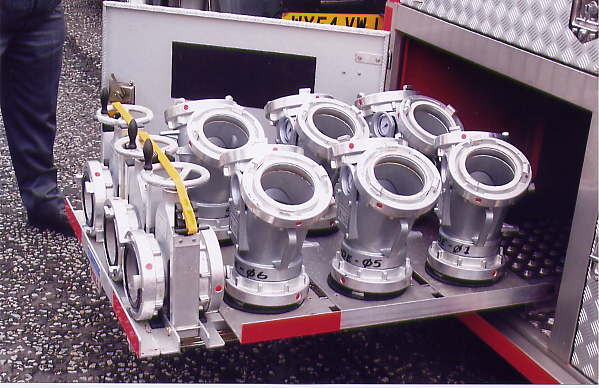 Gate valves and Y adapters WX54VWJ 100_9024 12/4/2008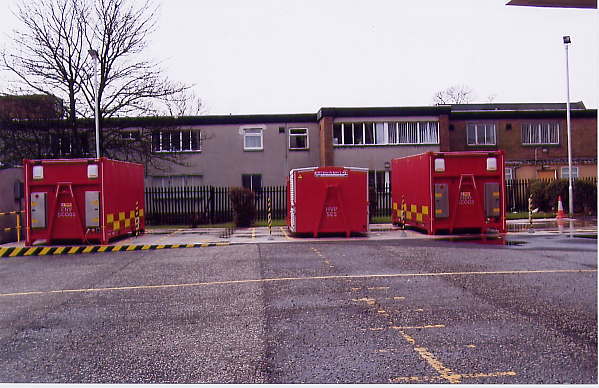 The other pods at Renfrew, Environmental, Hose and Mass Decontamination. 100_9006 12/4/2008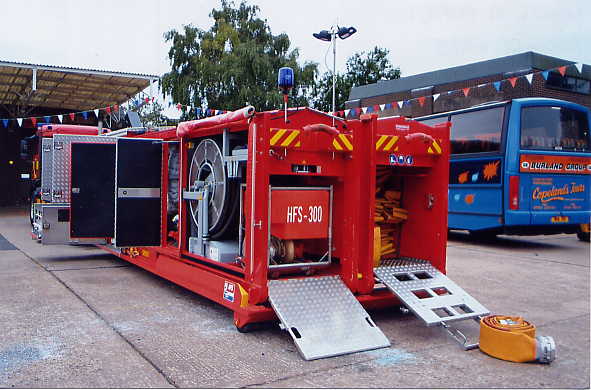 Inside of a HVPU at Rudgley 11/9/2005. Photo by Andrew Fenton.