DETECTION INVESTIGATION and MONITORING UNIT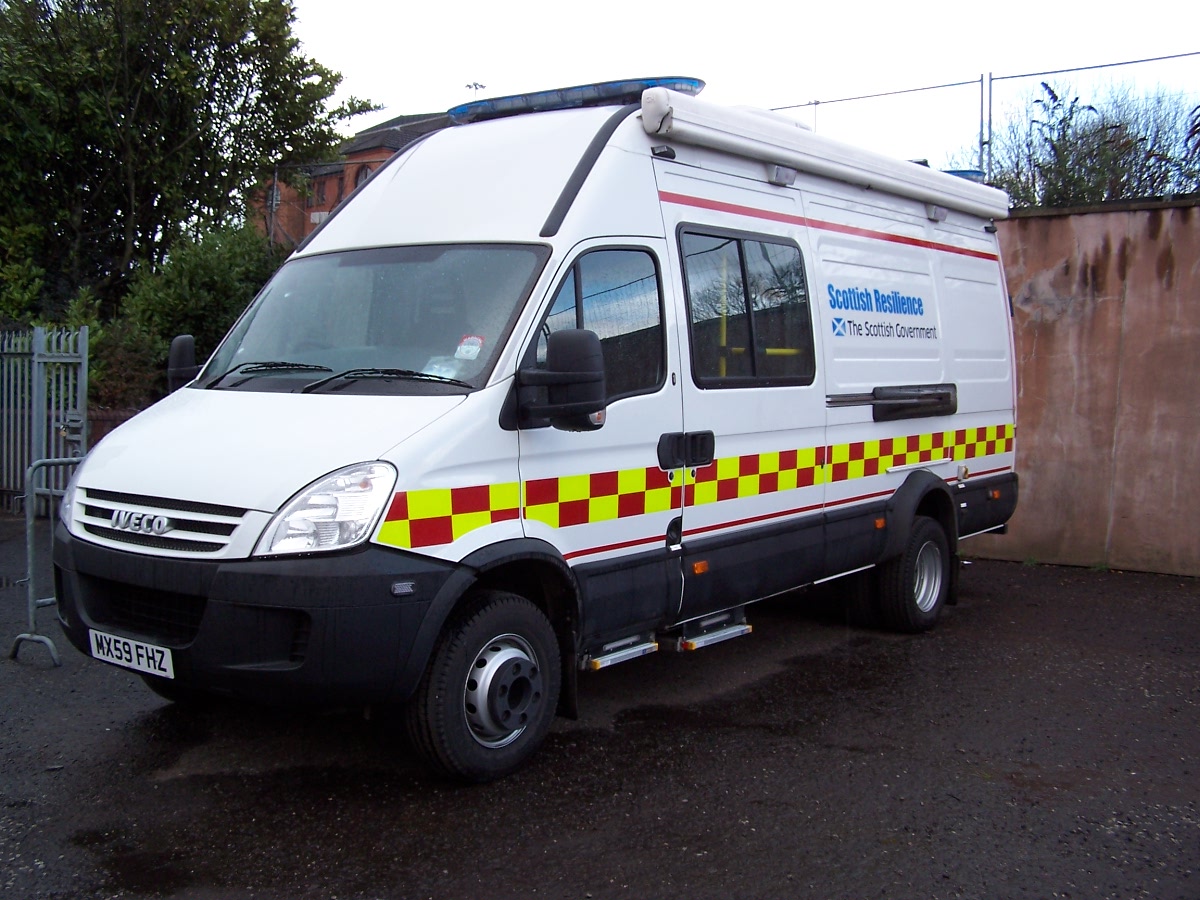 MX59FHZ SFR's DIM vehicle. 101_6811 28/3/2010
This vehicle is supplied by the Scottish Government's Scottish Resilience Unit (New Dimension).
There are four of these units in Scotland and the Strathclyde one is based at Springburn, as this station is close to the Glasgow Scientific Services (GSS) Colston Laboratory, where it will be crewed by a Technical Support Officer and a Scientific Advisor from GSS.
The four vehicles are
| | | | | |
| --- | --- | --- | --- | --- |
| | MX58FHT | Iveco Daily 65C18/AES | Grampian Fire and Rescue Service | North Anderson Drive |
| | MX09KRF | Iveco Daily 65C18/AES | Lothian and Borders Fire and Rescue Service | Newbridge/Livingston/McDonald Road |
| | MX09OSG | Iveco Daily 65C18/AES | Tayside Fire and Rescue | Blackness Road/Balmossie |
| | MX59FHZ | Iveco Daily 65C18/AES | Strathclyde Fire and Rescue | Springburn/Bishopbriggs |
Originally in Strathclyde the duty crew checked and maintained the equipment and the DIM vehicle and it was driven to incidents by a DIM Officer who was a Group Commander (apparently these officers refused to wear the surcoat as it was marked "DIM OFFICER").
When Resource Based Crewing (RBC) was introduced by the Scottish Fire and Rescue Service around September 2014 for special appliances the crewing of the DIM changed from the DIM officer collecting it to the crew of the second appliance jump crewing it.
MAIN INDEX 1975 INDEX STRATHCLYDE INDEX