GREENOCK CREW PHOTOS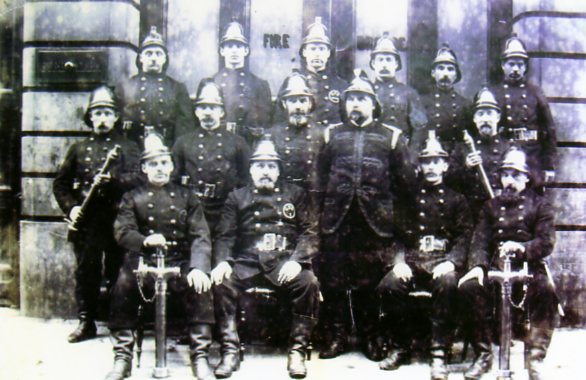 Greenock Fire Brigade outside Dalrymple Street Station 28/6/1893 Photo source unknown.
A.Haldane, W. MíKay, , W.Denoon, J. Campbell, J. Walsh, F. Danielson.
W. Peaston, R.Paterson, W.Gray, Superintendent W. Taylor, W. Macartney.
J. MíLean, Assit. Supt. W. Wood, J. MíNicol, W. Greenlees.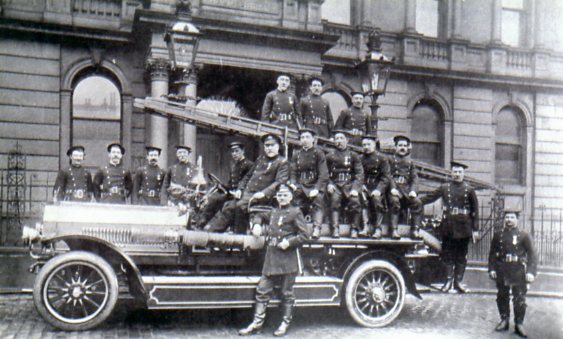 Greenock Fire Brigade 1912. Outside the Library in Wallace Square.
Back row -Wm. Greenless; Wm. Kennedy, and David Orchard. Middle row -Wm. Cabrie; Wm. Taylor Jr, who was to become Firemaster; Alexander Thomson, Wm. McCartney Sr, John McEwan, Firemaster Wm. Taylor Sr, Walter Peaston, Wm. McCartney Jr James McCue, James Logan and John Douglas. John McLean, standing against the new engine, was later to become Firemaster in succession to Mr W Taylor Sr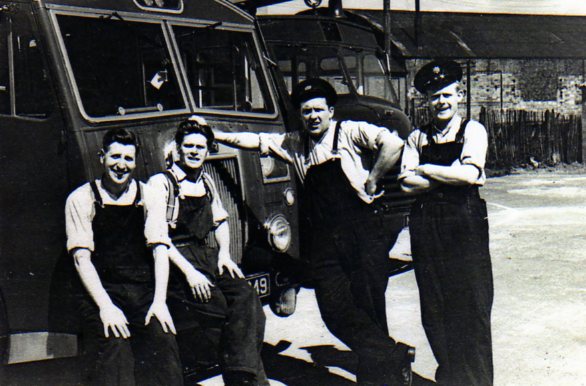 Drill Yard Dalrymple Street station. Before 1960. Photo from Duncan McMaster
Duncan McMaster, David Dibsdale, Willie Griffin, Hepburn (Heppy) Johnstone.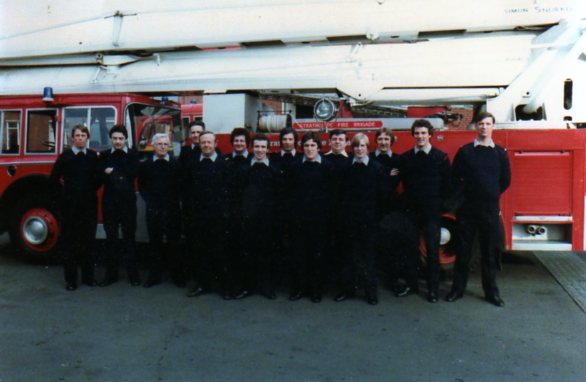 White Watch May 1990 Photo from Duncan McMaster
Alan Clark, Andy Wilson, Duncan McMaster, George Robertson, Neil Gregory, Tommy Templeton, Tommy McShane, Freddy Brown, Jim McNellis, Gordon Shepherd (Station Officer), Ian Scott, Joe Harkins, John Cassidy, John Slattery (L/Fm)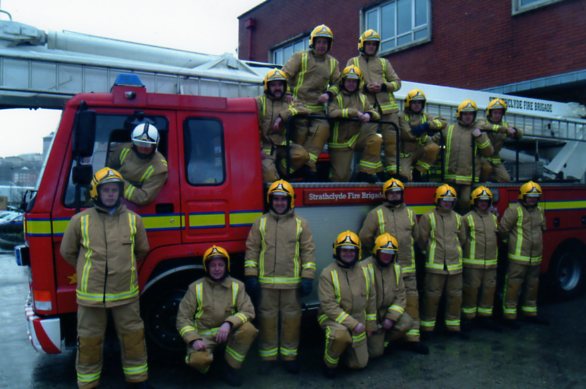 The new uniforms just issued.
On the decking - left to right, John Muirhead ( in cab), Joe Harkins, John Dyer, Dougie McGlashan, Ian Kennedy, Sandy McLean, Stuart McDonald, Malcy Nicholson
On the ground - left to right - Eddie Gallagher, Stuart Lepick, Alan Graham, John O'Brien, Danny McGonigle, Pol Stewart, Paul Devenay, Davie Wishart, Davie McBride.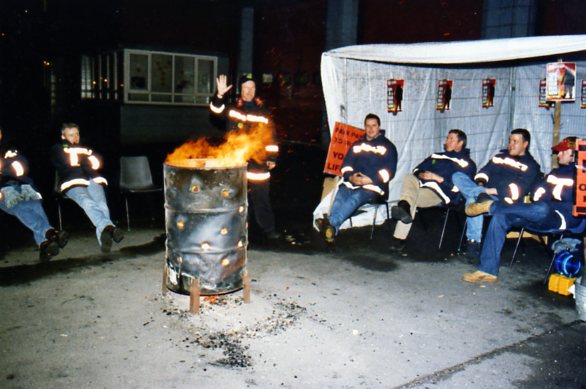 Pickets outside Greenock Fire Station. 12-30am Thursday 28/11/2002. Photo from Eric Webster
Jim Cuffe, Pat Cassidy, Donnie Neill, Eddie Gallacher, Stevie Carson, Alan Crighton, Paul Austin.
RETAINED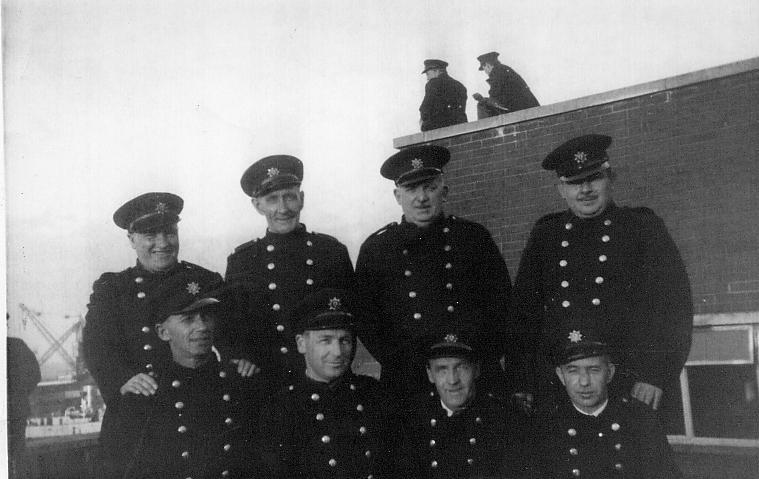 Greenock Retained Photo from Willie Ballantyne.
Roof ? , Archie Fulton?
Back Row Jimmy McMillan, Bob Alexander, Willie Ogg, Colin McGregor (Collie)
Front Row Willie Ballantyne, Davie Dick, Bobby Johnstone, Hughie Carnegie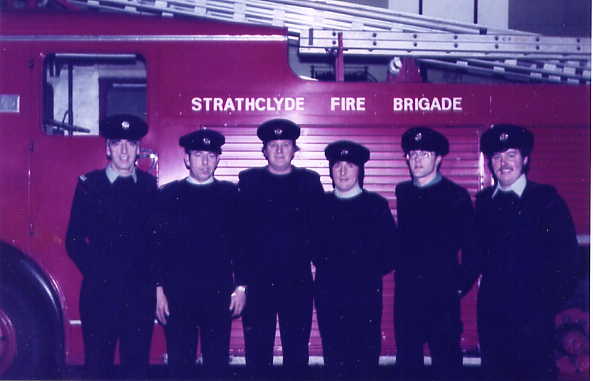 Greenock Retained
Sub O. Neil Walker, L/Fm Archie Fulton, Arthur Dickinson, Peter McNab, Graeme Kirkwood, Matt Collins.
Greenock Retained Photo from Arthur Dickinson
L/Fm Archie Fulton, Robert Arlow, Billy McNiece, Davy McLean, Graeme Kirkwood, Arthur Dickinson,
Sub O Neil Walker, Matt Collins.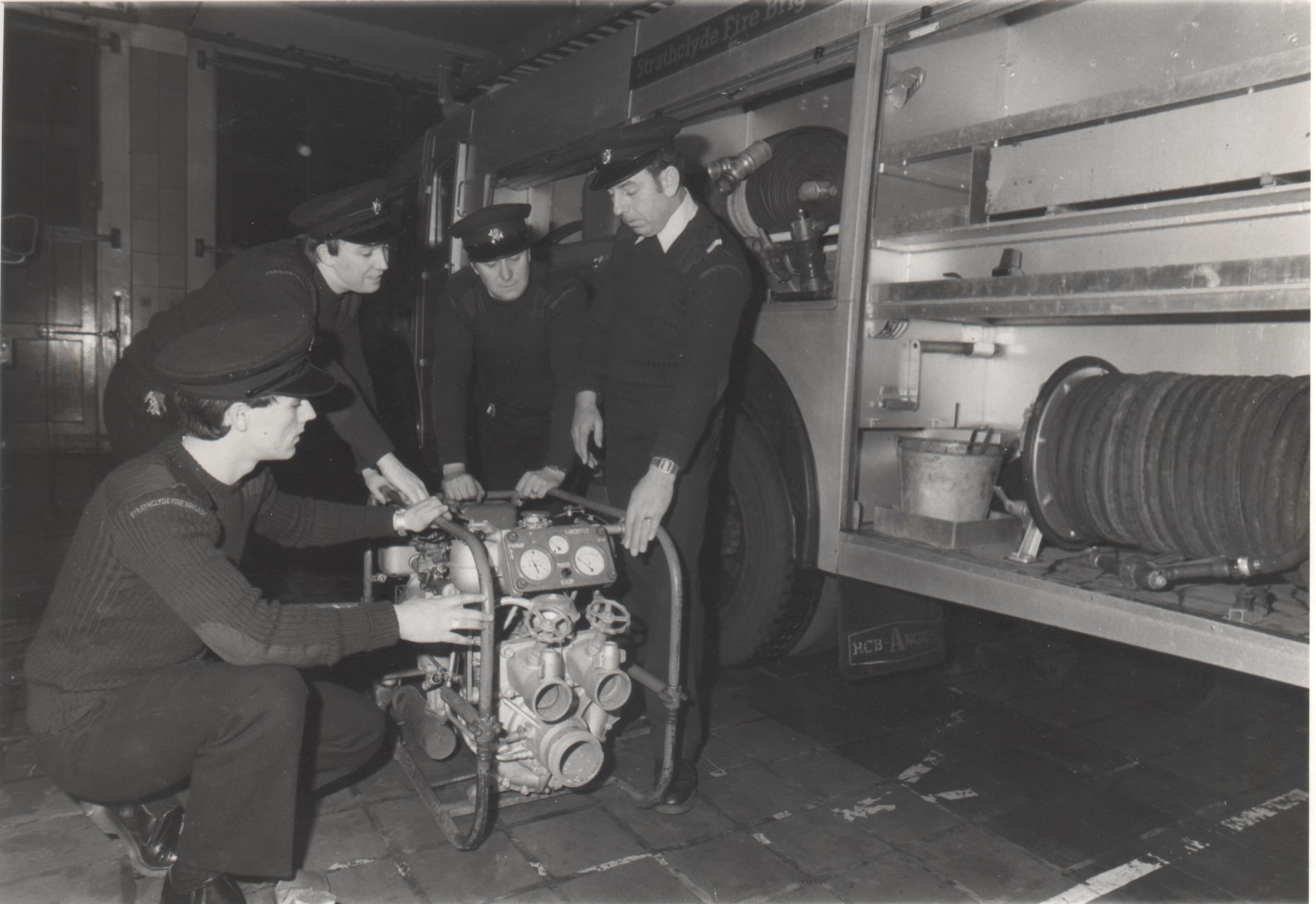 Davy McLean, ?, Arthur Dickinson, L/Fm Archie Fulton. From an article in the Greenock Telegraph when they were going to disband the retained unit.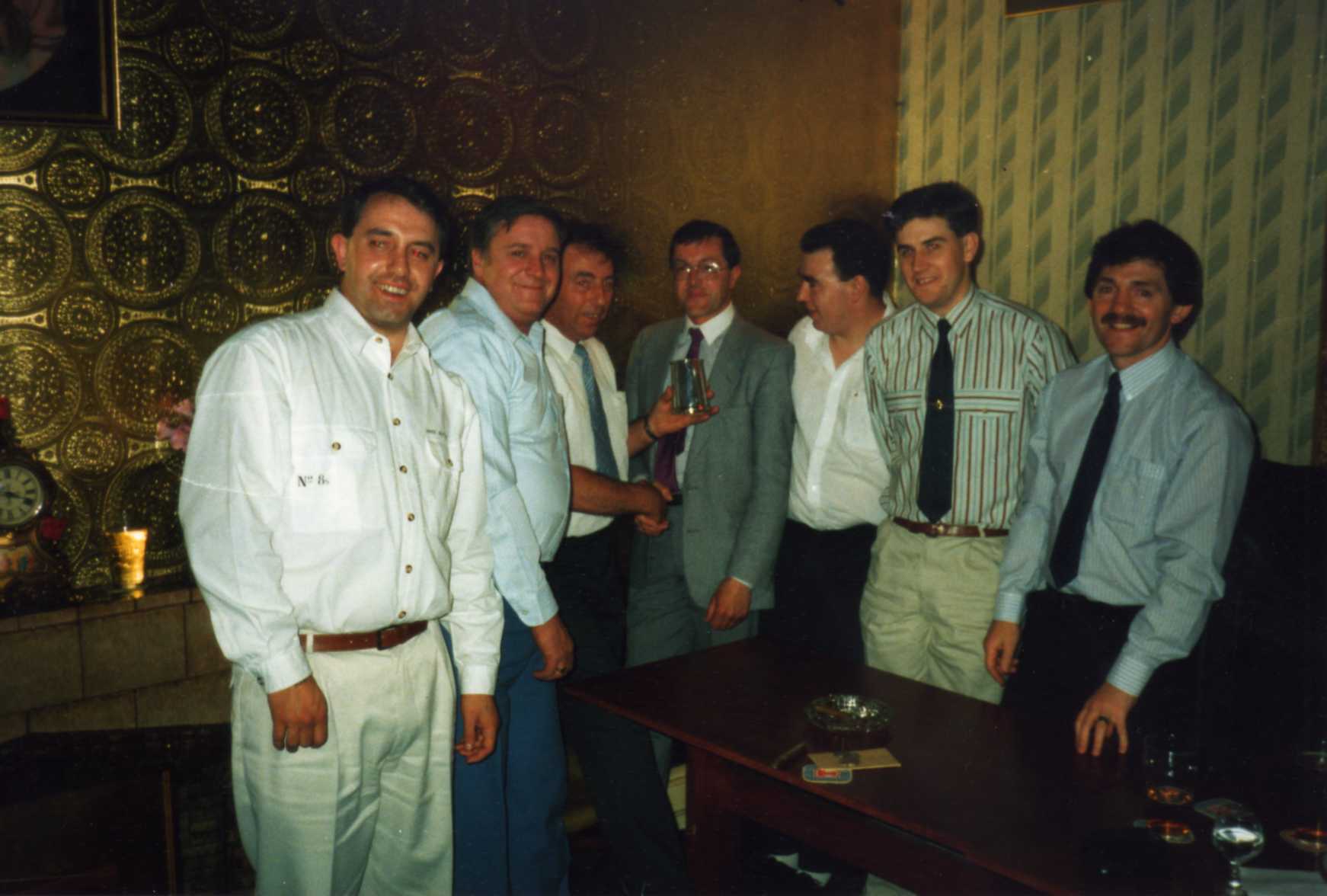 Graeme Kirkwood's retiral night with the crew in Hotel Palmrosa, Brougham Street, 2/6/1989. M7-0
Robert Watt, Arthur Dickinson, Archie Fulton, Graeme Kirkwood, Jim Gavin, Andy Adams, Billy McNeice.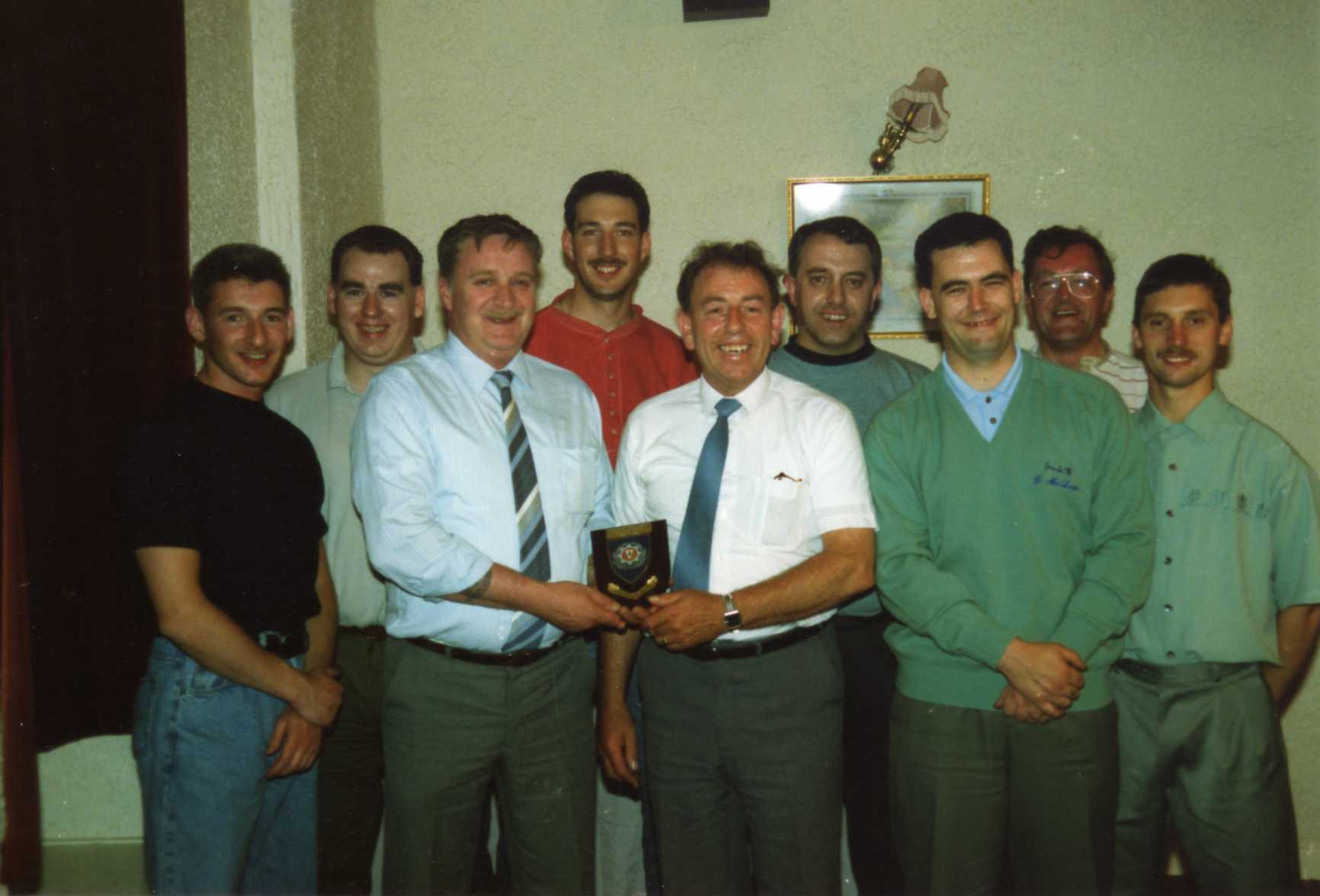 Arthur Dickinson's retiral night with the crew in the Firth Hotel Gourock 13/6/1992. M7-6
Front: Arthur Dickinson, Archie Fulton, Davie McLean. Rear: Davie Jenkins, Jim Gavin, Paul, Robert Watt, Graeme Kirkwood, John Lambert.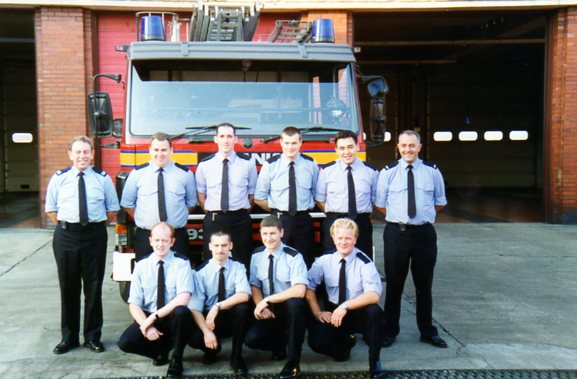 Sub Officer Archie Fulton's last drill night. C172/20 10/8/1995
Sub/O Archie Fulton, Jim Gavin, Peter McLaughlin, Davie MacBride, Brian Gillen, L/Fm Robert Watt
John Swan, John Lambert, Brian Murphy, Ian Schoular.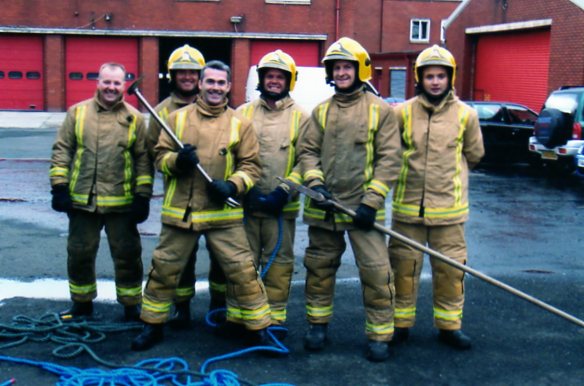 Greenock Retained 100_1228 30/6/2005
Alex Skilling, John McLaughlin, Don McGovern, William Gurnie, Brian Murphy, Steven Lyons.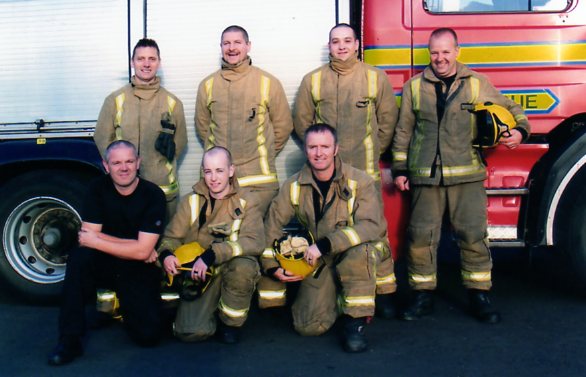 Greenock Retained 101_7538 29/7/2010
John Lambert, Brian Murphy, Elliot Pollock, Alex Skilling
Billy Gurney, Mark McGarrity, John McLaughlin. Missing Robert Watt, Jim Gavin and Ross Cuffe.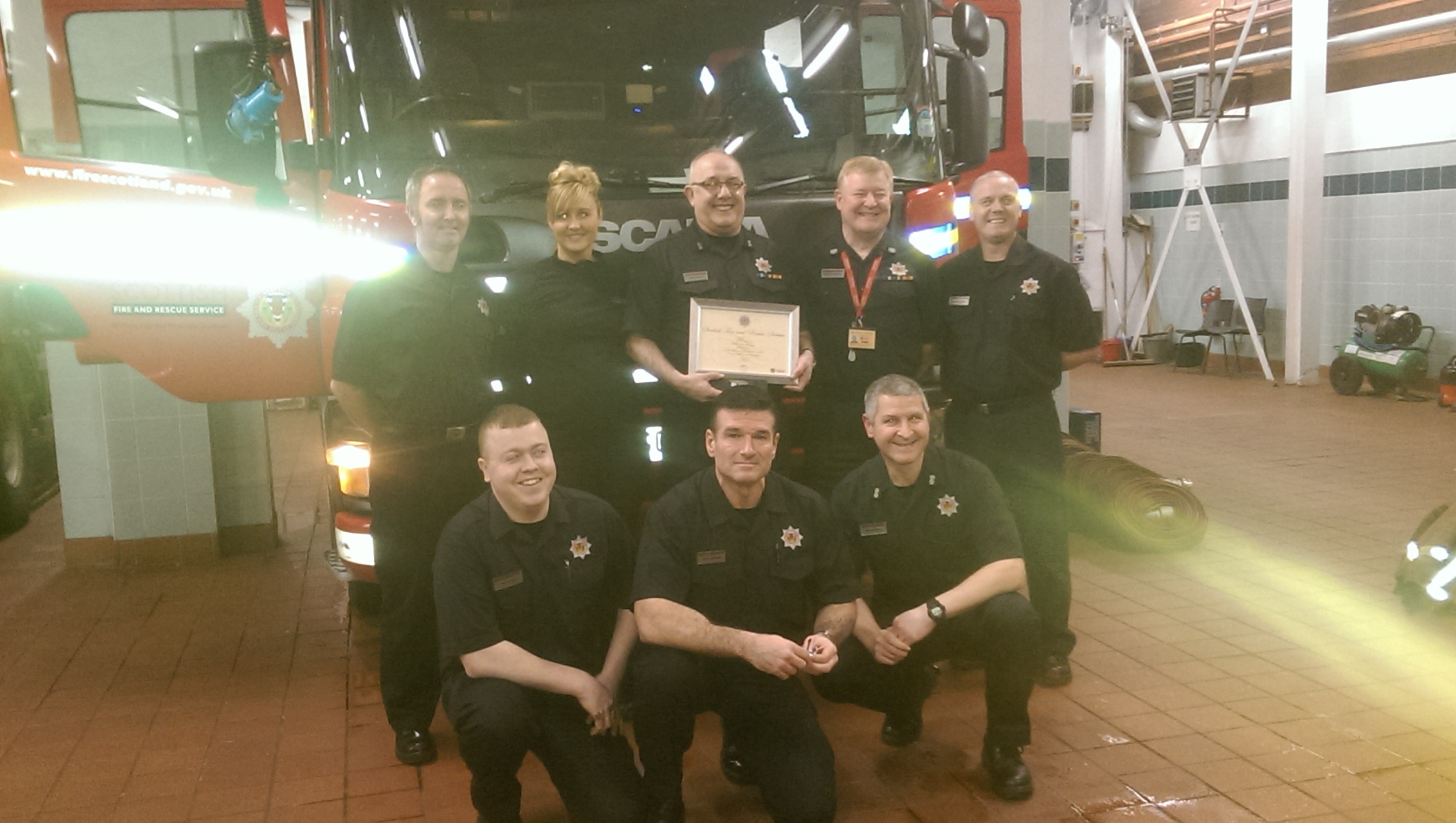 Robert Watt's retiral. John McLaughlin, Stephanie Wylie, Robert Watt, Group Manager Ritchie Duncan, Billy Gurney. Front: Mark O'Neill, Harry Grierson, Brian Murphy (new WM).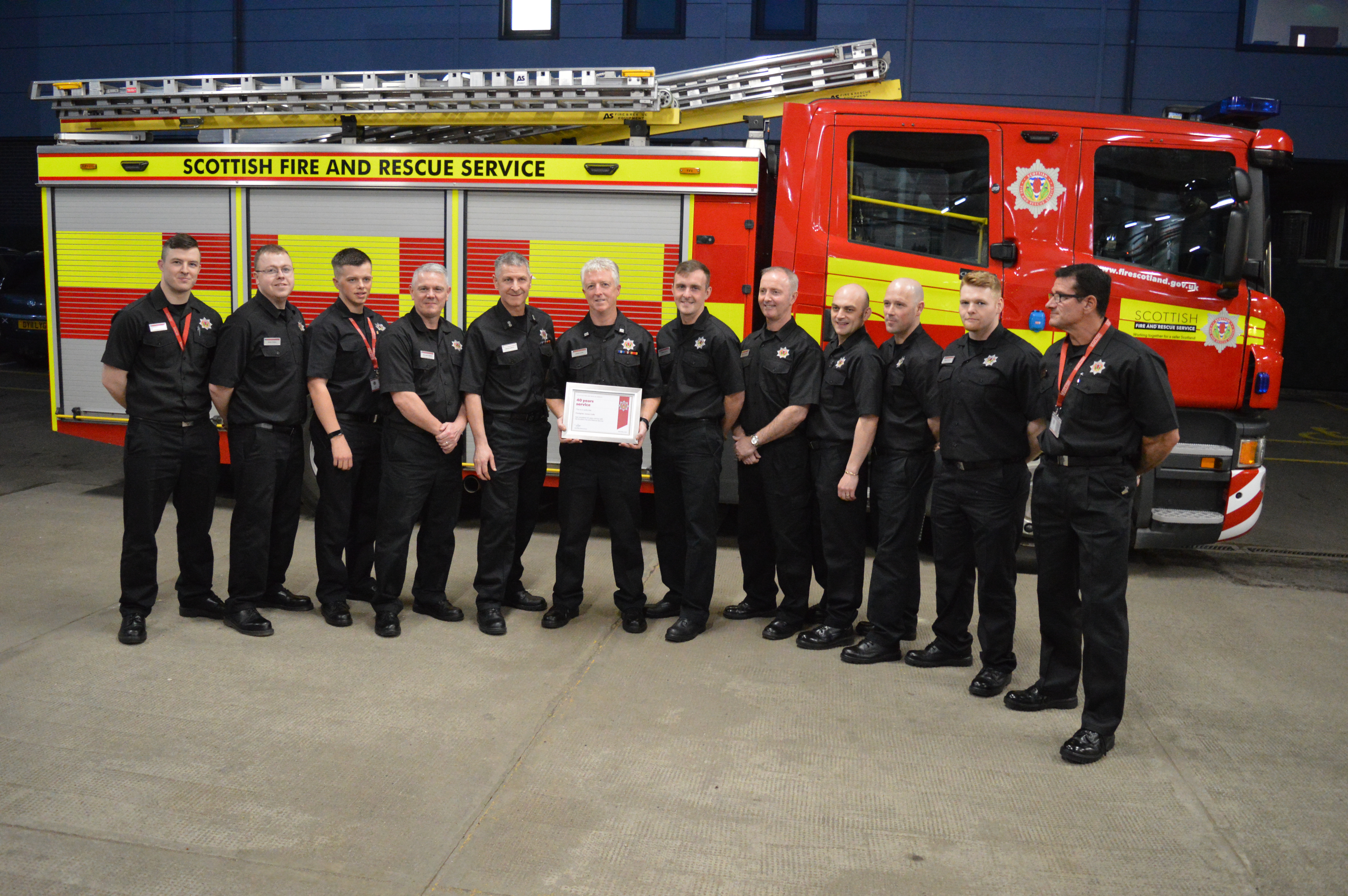 Crew Manager Jim Cuffe having been presented with his 40 year's certificate along with the Greenock Retained Crew at Port Glasgow Fire Station 28/3/2019 Photo from Andrew Carson.
Ross Cuffe, Mark O'Neill, Craig Carter, Billy Gurney, WM Brian Murphy, CM Jim Cuffe, Andrew Ellis, John McLaughlin, Matt Lee, Alister Miller, Simon Fowler, Harry Grierson.
MAIN INDEX 1975 INDEX STRATHCLYDE INDEX
GREENOCK PAGE