<![if !vml]>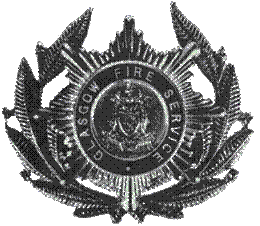 <![endif]>
The Glasgow Fire Service was formed when the NFS was disbanded after the war and Fire Brigades were returned to Local authority control on 16th May 1948. It remained as a brigade until Local Government re-organisation on 16th May 1975 when it became part of Strathclyde Fire Brigade.
Headquarters
1948 to 1975 33 Ingram Street
Firemasters
| | |
| --- | --- |
| 1948 to 1961 | MARTIN CHADWICK C.B.E. M.I.F.E. M.I.E.S. |
| 1961 to 1965 | JOHN SWANSON M.B.E. G.M. G.I.FIRE.E. |
| 1965 to 1975 | GEORGE P COOPER Q.F.S.M |
Stations
GLASGOW FIRE SERVICE STATIONS 1948 to 1975
1
9
4
8
1
9
4
9
1
9
5
0
1
9
5
1
1
9
5
2
1
9
5
3
1
9
5
4
1
9
5
5
1
9
5
6
1
9
5
7
1
9
5
8
1
9
5
9
1
9
6
0
1
9
6
1
1
9
6
2
1
9
6
3
1
9
6
4
1
9
6
5
1
9
6
6
1
9
6
7
1
9
6
8
1
9
6
9
1
9
7
0
1
9
7
1
1
9
7
2
1
9
7
3
1
9
7
4
DATE
Central
33 Ingram St.
X
X
X
X
X
X
X
X
X
X
X
X
X
X
X
X
X
X
X
01/05/1900
North
509 St. George's Rd.
X
X
X
X
X
X
X
X
X
X
X
X
X
X
X
X
X
X
X
??/4/1889
West
59 Cranston St.
X
X
X
X
X
X
X
X
X
X
X
X
X
X
X
X
1899
Springburn
7 Keppochhill St.
X
X
X
X
X
X
X
X
X
X
X
X
X
X
X
X
X
X
X
1893
East
27 Soho St.
X
X
X
X
X
X
X
X
X
X
X
X
X
X
X
X
X
X
X
16/11/1887
Tollcross
Corbett St.
X
X
1941
North West
35 Kelbourne St.
X
X
X
X
X
X
X
X
X
X
X
X
X
X
X
X
X
X
X
1941
Partick
122 Beith St.
X
X
X
X
X
X
X
X
X
X
X
X
X
X
X
X
X
X
X
21/05/1907
South
180 Centre St.
X
X
X
X
X
X
X
X
X
X
X
X
X
X
X
X
X
X
X
27/10/1916
Govan
2 Orkney Pl.
X
X
X
X
X
X
X
X
X
X
X
X
X
X
X
X
X
X
X
1898
Queen's Park
52 Allison St.
X
X
X
X
X
X
X
X
X
X
X
X
X
X
X
X
X
X
X
1889
Pollokshaws
65 Ashtree Rd.
X
X
X
X
X
X
X
X
X
X
1941
Marine
Yorkhill Quay
X
X
X
X
X
X
X
X
X
X
X
X
X
X
X
X
X
X
X
1941
Maryhill
34 Gairbraid Avenue
C
C
C
C
1899
Parkhead
7 Cuthelton St.
X
X
X
X
X
X
X
X
X
X
X
X
X
X
X
X
X
04/12/1952
Knightswood
373 Anniesland Rd.
X
X
X
X
X
X
X
X
X
X
X
X
02/05/1958
Pollok
Brockburn Rd.
X
X
X
X
X
X
X
X
X
16/04/1962
Castlemilk
69 Raithburn Av.
X
X
X
X
X
X
X
X
14/09/1962
Easterhouse
Shandwick St.
X
X
X
X
X
X
X
28/05/1964
West
200 Kelvinhaugh St.
X
X
X
22/04/1971
Anderson
Anderson Centre
X
23/09/1974
Total Stations
13
13
13
13
13
13
14
14
14
14
15
16
16
16
16
16
16
17
Stores
260 Broad St.
X
X
X
X
X
X
X
X
X
C
At present closed
Springburn
321 Springburn Rd (1956)
Information taken from Glasgow Fire Service Annual Reports (blank columns I have no copy of the Annual report).

Notes

Glasgow Fire Service Officers of Station Officer rank and above will now wear white helmets. Glasgow are the last in Britain to change to white helmets. (Greenock Telegraph, 28/11/1953 page 1)

GLASGOW

FIRE FIGHTING

All early communities, with their wooden walls and thatched roofs, were continually at risk from fire, and old Glasgow suffered from serious conflagrations. The most disastrous of these early fires happened in 1652, some 14 years before the Great Fire of London, and, like that catastrophe, was preceded by an outbreak of plague. It started in the house of James Hamilton in the High Street on 17 June and the flames, fanned by a north-west wind (an uncommon direction for the city), spread south to the Saltmarket and east and west along Trongate and Gallowgate. Completely out of control, it reached as far south as the Bridgegate and it took 18 hours before the flames began to die down. By that time, one third of the city had been destroyed; the Town Council reported that 'thair will be neir four scoir closses all burnt, estimat about ane thousand families'. The damage was assessed at £100,000 sterling, and although Cromwell disobligingly remarked that 'we recommend them as high objects of charity to such pious and well-disposed people as shall be willing to contribute', Parliament eventually allocated £1,000 sterling to the distressed city.
Probably as a result of this conflagration, Glasgow acquired its first fire engine four years later. The Council caused the Edinburgh 'ingyne for slockening of fyre' to be examined and a copy built and installed in the city. Although it now had its own fire engine, the city's main defence against outbreaks was still chains of water buckets and long hooked poles for pulling down thatch or walls to prevent fires from spreading.
Another precaution was taken in 1658 when dangerous trades were banished from the town. This regulation brought about the expulsion of four candle factories to fields just beyond the city's western boundaries; their new location was given the name 'Candleriggs' which it still bears today.
There was another major outbreak of fire in November 1677. This was the result of arson; a disgruntled blacksmith's apprentice set fire to his master's premises at the corner of Saltmarket and Trongate in revenge for a beating, and over 130 houses were destroyed in the resulting fire.
This incident was followed by a Council regulation that all houses whether new or repaired were to be built 'from heid to foot, bak and foir' of stone. This ordinance, and others requiring slate instead of thatch, had some effect, although some of these old wooden houses managed to survive into the middle of the 19th century. One beneficial effect of these regulations was to change Glasgow into that well-built, handsome city so often praised by later visitors.
In 1725 a second fire engine was brought all the way from London at a cost of £50 sterling. and in 1744 the city appointed its first full-time firefighter in the person of Robert Craig, smith. A further step was taken three years later when Craig was put in charge of 24 part-time firemen who managed the city's three fire engines. Each man was equipped with a strong leather cap 'having the Glasgow arms printed on the front thair of that he may be known upon occasioune of fire'.
From 1767 on, fire insurance offices began to fix their individual 'marks' to buildings insured with them. This practice, however, led to such arguments about the respective responsibilities of the different firefighting teams that in 1787 the Town Council took over full control and the marks gradually fell out of use.
The year 1793 saw a destructive fire in the Tron (or Laigh) Kirk in the Trongate. Its Session House was used by the nightly Town Guard or Watch as its headquarters and one evening, when the Town Guard was out on patrol, a group of high-spirited young drunks (said to be members of a local 'Hell-fire Club') invaded the premises and stoked up the fire to see how well they could withstand an imitation of the heat which would be their ultimate destination! So fierce was the blaze that the Session House and the church were both set alight and destroyed, leaving only the steeple (still straddling the pavement west of the Cross). The fire also destroyed the records of Glasgow's General Kirk Session and badly damaged the Presbytery Registers.
By the close of the 18th century, the style of fighting fires had changed very little; but the beginning of the new century brought about many changes. In 1807 a regular police force was set up and the city's firefighting duties were passed over to this new organisation. With the responsibilities came six manual pumping engines and about 1,000ft of sewn leather hose. The engines were kept at strategic points throughout the town - the Meat Market, the Potato Market (King St), Wynd Church. south side of the Trongate, Hutchesons' Hospital, and Laing's Callander Close (Gallowgate).
One of the difficulties in fighting city fires had always been the lack of water - obtained as best it could be from burns. wells and the river - but with the establishment of several early water companies, the fire service could access a network of fire cocks throughout the city. These numbered 40 in 1811 and 152 in 1816.
In 1829 the Superintendent of Fire Engines had 48 firemen under his charge. eight to each engine. These were pulled to the fire by the firemen themselves, whilst the large water butts (one for each engine) were drawn by horses belonging to selected carters who lived near the fire points. One of the early superintendents, in an excess of zeal, built to his own specifications a monster fire engine called Clyde which unfortunately suffered from two faults - it required 40 men to operate it and. as it weighed three tons. it could not be moved !
Although Glasgow burnt down its theatres with surprising regularity. on only one occasion was there serious loss of life. In February 1849 at the Theatre Royal, Dunlop St. a small gas leak was accidentally ignited but safely extinguished. The cry of 'Fire!' was raised, however, and in the ensuing panic 65 members of the audience, mostly young people in the galleries, were crushed to death on the stairs.
A new custom-built Central Fire Engine Station was built in College St (off High St) in 1851 with full stabling facilities within the building. Another important improvement came with the introduction in 1858 of water from Loch Katrine. So powerful and copious was this new supply that it was possible to place over 1,000 hydrants throughout the city streets. This was followed by another important innovation in 1861 when telegraphic communication was introduced between the fire stations and the central police headquarters. which still controlled the fire service.
The city's first steam fire engine was purchased in 1870 for £500 and immediately did away with the old manual engines - it could do the work of five of the latter and could deliver 400 gallons every minute. In 1873 another 'steamer was bought and was ingeniously fitted to one of the Clyde's steam ferries. This proved most useful in tackling fires on or near the river, a very built-up area with many warehouses. About this time the firefighting personnel were all put on a full-time basis and a stud of horses maintained for the sole use of the fire service.
In 1878 some 82 public fire alarms were set up at the corners of the city's principal streets. By breaking a glass disc and pressing a knob the alarm was instantly raised; the ornamental boxes housing this apparatus became a familiar sight in the city's main streets.
A Salvage Corp Committee (later the Glasgow Rate and Salvage Association) was formed in 1877, quite separate from the fire service. Its purpose was to inspect premises for fire risks and to reduce losses by moving and covering the contents of buildings on fire, and was maintained by the insurance companies.
In 1891 the fire service was at last detached from the police and set up as an independent force. By this time there were over 4.000 fire hydrants throughout the city.
In 1898 a fire in the Renfield St premises of W. & R. Hatrick, wholesale chemists. was quickly brought under control: but while firemen were still in the building a disastrous explosion brought down the remains of the building and killed four firemen. This was the first occasion on which a firefighter had been killed in action, and an early example of fire hazards due to dangerous substances.
The fire service was responsible for creating one of the city's better-known legends. In 1894 a dog. 'Wallace', followed a fire engine back to the fire station and, despite his owner's efforts, refused to return home. The dog remained with the service for the rest of his life. His claim to fame was his curious habit of running in front of an appliance proceeding to a fire. It was popularly believed that the dog was able to tell where the fire was located, but the more mundane explanation was as that the leading appliance's driver indicated by his gestures which way Wallace should turn. When a visitor to the station noticed the dog's sore paws he had a set of four small rubber bouts made for him, but Wallace always preferred his unadorned paws. When he died in 1902 his body was stuffed and placed in a glass case along with his boots.
By the turn of the century, fire service personnel numbered 120 and appliances and apparatus consisted of 11 steam engines, 12 hose and ladder carriages. 42 horses, 1,800ft of leather hose and 28,600ft of canvas hose. In addition, there were now 144 street alarms and over 5,000 hydrants.
Another milestone was the purchase in 1905 of the service's first motor appliance - a 4-cylinder, 24hp engine with a maximum speed of 22mph - from the Wolseley Tool & Motor Car Co of Birmingham. This spelt the end of the picturesque horse-drawn appliances. and in 1913 the last two horses, Kelvin and Tweed. were honorably retired.
There were few changes in the service between the wars. but an important improvement in the service. in 1942. was the introduction of radio communication between the appliances and the stations. For the duration of the Second World War Glasgow's distinctive service was lost in the anonymity of the National Fire Service. Although the city suffered little serious war-damage, two incidents involved the fire service particularly. The cruiser HMS Sussex, moored at Yorkhill Quay, was hit by a 250lb bomb and it took the service 12 hours to extinguish the resulting blaze. Although the effect of the Clydebank Blitz (March 1941) on the city was relatively small, 250 of the pumps were called out and five of the fire stations were hit.
Like any large city. Glasgow has recently suffered several major fires. and two of these. were particularly serious outbreaks. In 1960 a bonded warehouse house in Cheapside St, Anderson, holding over one million gallons of whisky and rum went on fire. The first problem was that the narrow and congested streets in the area made it very difficult to bring sufficient fireflghting power bear on the conflagration. The other was the extremely volatile nature of the liquids in store, for the building literally exploded. and the collapsing walls buried and killed 14 members of the Glasgow Fire Service along with five personnel from the Glasgow Salvage Corps.
The second incident occurred in the same area and in the same type of building. In 1968 a fire broke out in an upholstery factory which was housed in an old bonded warehouse in James Watt St. As was customary for such high-security buildings, its windows were barred, and 22 workers were trapped and died behind those barred windows.
In 1960 the long-established system of street fire alarms was discontinued. as the increasing availability of the telephone emergency service was rapidly rendering them unnecessary.
In 1975, along with many other functions of the old Corporation, the Glasgow Fire Service passed out of its control into that of Strathclyde region, with its new headquarters at Hamilton.
(From Pages 138 to 142 of The Glasgow Encyclopedia by Joe Fisher, Mainstream Publishing 1994. ISBN 1 85158 2126)

FIRE BRIGADE

The Fire Brigade of the city is the most interesting and popular of all our municipal organizations. Its work is performed in the midst of danger and excitement, elements in themselves which appeal powerfully to the imagination.
The following Table gives some idea of the work performed by Captain Paterson's gallant brigade in the last ten years:-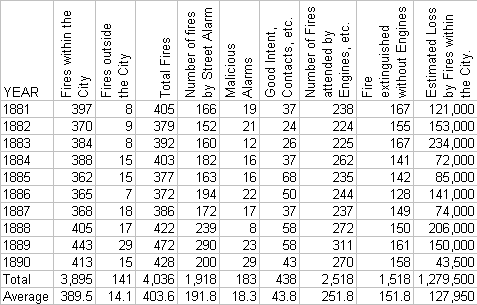 Every improvement in fire extinguishing appliances is introduced by the Corporation whenever proved to be of practical utility. At the present moment two new and powerful steam fire engines of an improved type are being built, and four fire escapes, two of them 60 feet and two 40 feet in length; facilities for the rapid transmission of intelligence of an outbreak of fire become more complete every year; the Water Commissioners plant innumerable hydrants and supply water for fire extinction purposes in great abundance and under magnificent pressure: all these, combined with a fine esprit de corps in the brigade itself, place Glasgow in the van for fire extinguishing facilities.
It is here shown that in last year the fire losses were extremely low, totalling to £43,500, whilst over the ten years the annual average was £128,000. I find it is impossible in this publication, at least, to distinguish between property covered and uncovered by insurance; but it is probably the fact that Glasgow does remarkably well by the insurance companies, and that these could, in return, give more consideration than is done to the splendid facilities for fire extinction maintained at the expense of the citizens, and which serves the companies' interest in a supreme degree, although, no doubt, primarily instituted in the public interest. I believe it is the case that Glasgow has no advantage over places less thoroughly equipped for the extinction of outbreaks of fire.
The leading appliances in use at present are:-8 steam fire engines, capable together of discharging with great force about 4,000 gallons of water per minute; 9 manual engines; 18 hose carriages; upwards of 4,000 fire cocks and hydrants; and 40,000 ,feet of hose on machines and in store; while 26 horses are used solely for fire department purposes. As stated, two new steam fire engines and four fire escapes are being built.
There are eleven fire stations in the city, and at present the brigade consists of 88 permanent and 46 auxiliary firemen. In view of the approaching extension of the city area, a proportionate strengthening of the brigade and its appliances will doubtless take place. One of the weaknesses and dangers of burghal isolation has been the important one of means for fire extinction.
(From:- Vital, Social, & Economic STATISTICS OF the City of GLASGOW 1885-1891 by James Nicol)
The Peoples History of Glasgow
by J.K. McDowall 1899
Page 22
First Fire Engine
Glasgow became possessed of it's first fire engine in May, 1657. It is referred to as an "ingyne for casting water on land that is on fyre"
Page 34
Fire in 1600
A great part of Glasgow was burned in 1600.
Fire in 1652
On 17th June, 1652, the great fire of Glasgow took place, one third of the town being burned. The houses were nearly all thatched and built of wood. Over 1,000 families were rendered homeless, and churches were opened to shelter them.
Fire in 1677
On 3rd November, 1677, another great fire occurred in Glasgow. The Tolbooth was full of Covenanters at the time, and the people burst the doors open and allowed the prisoners to escape. The heat spoiled the clock in the Cross Steeple.
Page 35
Fires in 1748-49
Two persons were burned to death by a fire which occurred in the Saltmarket on 25th July, 1748. Through a fire which happened on 5th June, in the following year, in Main Street, Gorbals, 150 families lost their homes, a public subscription being raised in their behalf.
Fire in 1786
Nine families were burned out in Gorbals in 1786
Page 36
Fire in 1829
The premises of James Donaldson, cotton broker in Mitchell Street, were burned on 20th November, 1829, over £40,000 of damage being done. The fire smouldered for weeks after it broke out.
Page 37
Fire in 1848
On 30th October, 1848, fourteen lives were lost and damage done to the amount of £15,000 by the burning of Wilson & Son's sugar house in Alston Street, which is now part of the site of the Central Railway Station.
Fatal Panic in Dunlop Street Theatre
On Saturday night, 17th February, 1849, during the second act of the "Surrender of Calais", in the Dunlop Street Theatre, some person in the gallery raise a false cry of fire. A frightful scene ensued. Everybody rushed to the doors, with the result that sixty-five persons were trampled to death, and many more injured.
Dunlop Street Theatre Burned
The old theatre in Dunlop Street, where all the great lights of the stage shone in the fifties, was burned in January, 1863.
Page 38
Burning of Theatre Royal
The Theatre Royal in Cowcaddens, opened as the Colosseum Music Hall in 1867, was totally destroyed by a fire which broke out on Sunday morning, 2nd February, 1879. Happily no one was injured. The damages amounted to over £35,000. The theatre was again burned on 1st March, 1895, when £25,000 damage was done.
Page 39
Star Music Hall Disaster
A very sad event happened on 1st November, 1884, in the Star Music Hall. Some evil disposed persons raised a cry of fire, when a general panic took place, and in the stampede no fewer than fourteen persons were trampled to death and eighteen injured. This was the means of very stringent bye-laws being introduced to prevent similar occurrences being possible in places of public entertainment in the future.
Great Fires
The following is a list of the fires, with damage over £20,000, since 1875 :-
| | | | |
| --- | --- | --- | --- |
| Date | Location Etc. | | Loss |
| 1875 | | | |
| July 28 | Broad Street, Mile-end | Cotton spinners | £45,500 |
| August 4 | 23 West Street, South Side | Grain Mill | £26,000 |
| November 12 | Greenhead Street | Spinning Mill | £134,5000 |
| 1878 | | | |
| June 8 | 34 Virginia Street | Apothecaries' Hall | £24,000 |
| 1879 | | | |
| February 2 | Cowcaddens | Theatre Royal | £35,000 |
| 1880 | | | |
| March 6 | 472 Garscube Road | Cotton Spinners | £28,500 |
| 1881 | | | |
| December 3 | Kelvinhaugh Street | Spinninng Mill | £40,000 |
| 1882 | | | |
| January 18 | 30 Lancefield Quay | Engineers | £32,000 |
| October 14 | 21 Garngad Road | Spinninng Mill | £22,000 |
| 1883 | | | |
| November 3 | Mitchell and Buchanan Streets | Furniture Warehouse | £128,500 |
| December 23 | St. Vincent at Renfield Street | Offices and Shops | £27,000 |
| 1886 | | | |
| January 28 | Crownpoint Road | Carpet factory | £31,500 |
| April 3 | 5 South Hanover Street | Soft Goods | £27,000 |
| 1887 | | | |
| March 16 | 75 Buchanan Street | Silversmiths, etc. | £31,500 |
| 1888 | | | |
| October 14 | 20-24 Buchanan Street | Warehouses | £72,000 |
| October 31 | M'Neil Street | Spinninng Mill | £61,000 |
| 1889 | | | |
| October 27 | Greendyke Street | Hides, Skin, and Wools | £36,500 |
| 1891 | | | |
| May 26 | 847 Duke Street | Tannery | £21,000 |
| June 8 | 20-28 Miller Street | Glass, etc. | £37,500 |
| 1892 | | | |
| August 17 | 66 Mitchell Street | Umbrellas, etc. | £27,500 |
| November 27 | 108 Boden Street | Curriers | £22,500 |
| 1895 | | | |
| March 1 | Cowcaddens | Theatre Royal | £25,000 |
| 1896 | | | |
| October 13 | 20-22 Clyde Place | Ship Chandlers. etc. | £20,500 |
| 1897 | | | |
| January 16 | 45 Anderson Quay | General Stores | £22,500 |
| October 26 | 23 York Street | Bonded Stores | £45,000 |
| 1898 | | | |
| April 25 | 27-39 East Howard Street | Printers, etc. | £122,000 |
Page 40
Loss of Life at Fires
In 1895 three lives were lost when Messrs Higginbotham's Mills were burned. On 21st January, 1897, two persons were burned to death at a fire in an oil works in Kinning Park. On 7th January, 1898, four firemen lost their lives and two were injured during a fire in a chemical warehouse in Renfield Street. This was the first occasion on which firemen had been killed at a fire in the city. Two persons were burned to death by a fire in a dwelling house in Kinning Park on 27th March, 1899.
Page 69
Fire Brigade
The Fire Brigade used to be in connection with the police office, but the growth of the city rendered it necessary to have premises specially for fire purposes. These were erected in College Street; but new and more modern buildings are being built in Ingram Street, where this important branch of the Corporation will soon be housed. The brigade is fully equipped with over twenty powerful steam and manual engines, and over 50,000 feet of hose, and has the following stations situated as under, viz. :-
| | |
| --- | --- |
| Sub-station | St. Enoch Square |
| Northern | 509 St. George's Road |
| Hillhead | Burgh Buildings, Byres Road |
| Maryhill | Gairbraid Avenue |
| Southern | 26, Warwick Street |
| Queen's Park | 52 Allison Street |
| Western | 59 Cranston Street |
| Eastern | 27, Soho Street |
| Springburn | Keppochhill Road |
(Queen's Park opened 1898, cost £18,000 including the Police Station)
Glasgow's Story
by C. Stewart Black 1938?
Page 127
There are ten Fire Stations, with thirty five motor Fire Engines and Tenders, and about 11,000 fire plugs and valve hydrants are distributed along the streets.
The Brigade was reorganised into three Operational Commands on the 14th February 1964
| | | |
| --- | --- | --- |
| A Division | B Division | C Division |
| Central* | South* | North West* |
| Springburn | Govan | North |
| East | Queen's Park | West |
| Parkhead | Pollok | Marine |
| Easterhouse | Castlemilk | Partick |
| | | Knightswood |
* Divisional Headquarters